Spider-Man: No Way Home Trailer Dropped - The Loop
Play Sound
Revered Warren Steed Jeffs was the president of the Fundamentalist Church of Jesus Christ of Latter-Day Saints (FLDS for short) who was accused of a number of sex-related crimes linked to his church. He was sentenced to life in prison.
Background
Jeffs was born more than two months prematurely as one of several dozen children of Rulon Merilyn Steed. Rulon was the president of the FLDS church. Little is known about Jeffs' early life, but at some point he became the principal of Alta Academy, an FLDS private school at the mouth of Little Cottonwood Canyon in 1976. He was described as a strict principal.
Church leadership
Jeffs eventually became the head of his father's church . Shortly after he married most of his father's wives (with one being banned from ever getting married for rejecting him). He also assigned marriages for members of the church, choosing the males' wives for them and punishing them by reassigning their wives (and even their children) to other men. He believed that having many wives would lead a man closer to Heaven. Jeffs also controlled a vast majority of the area's land, estimated to have been worth around $100,000,000. He expelled more than twenty male members in 2004 and reassigned their families to other men. Jeffs held Mormon fundamentalist and racist views.
Crimes, Manhunt, Arrest, and Incarceration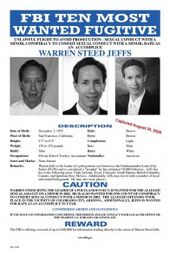 At some point, Jeffs began to abuse his power and use it for various sex-related crimes. His nephew alleged that Jeffs had raped him in the 1980s. More family members came forward claiming abuse (one of whom even committed suicide afterwards). He often assigned underaged girls to older males who sometimes abused them. Jeffs fled after being charged for arranging one such marriage in April 2001 and a full manhunt began for him in June. His brother was arrested for suspicion of harboring him and convicted of it. Jeffs was eventually placed on the FBI's Top Ten Most Wanted list on May 6.

On June 8, Jeffs returned to Colorado city to arrange more underaged marriages (or "child-bride marriages" as he called them). He stayed in the city for several months before finally being apprehended at a traffic stop on August 28 for an obscured license plate. Jeffs was returned to Utah for trial to face two charges for accomplice rape . He was eventually moved to Arizona for eight more charges. The trial officially began on September 11, 2007 in St. George, Utah. After a lengthy trial and re-trial, Jeffs was ultimately convicted of two counts of sexual assault of a child and sentenced to life in prison. He has since made numerous hunger strikes, fastings, and even a suicide attempt since incarceration, leading to him being hospitalized several times. His followers have still been loyal to him since and have continued to maintain contact with Jeffs even in prison.
Known Victims
Unspecified date in c.1980: Brent Jeffs (his nephew; raped)
Unspecified date(s): Clayne Jeffs (nephew; sexually assaulted; later committed suicide)
Unspecified date(s): Jeffs' unnamed nephew
Unspecified date(s): Two of his unnamed children
Unspecified date: An unnamed girl, 14-18 (raped)
April 2001: Elissa Wall (assigned to marry her cousin, who raped her repeatedly and caused several miscarriages)
On Criminal Minds
Season Four

"Minimal Loss" - While not directly mentioned or referenced in this episode, Jeffs appears to have been an inspiration for Benjamin Cyrus - Both were statutory rapists who were leaders of a church sect they inherited from another man (Cyrus surpassed his sect's previous leader, while Jeffs became head of his father's church), were viewed as 'messiahs' by their followers, both abused their positions to sexually abuse underaged members of their sects, some underaged victims were assigned adult men as husbands, and both were apprehended after being hunted by the FBI (though Jeffs was apprehended alive and without a gunfight, unlike Cyrus who died in a hostage crisis).

Season Eleven

"The Witness" - Jeffs was mentioned by Garcia when describing Theo Kautranis' views, specifically that the government needed to pay for what they did in Waco and to Jeffs.