Spider-Man: No Way Home Trailer Dropped - The Loop
Play Sound
"
Do we have to shed blood to reform the current system? I hope it doesn't come to that! But it might.
"

— One of Nichols' protest letters to the government
Terry Lynn Nichols is the convicted accomplice of homegrown terrorist and mass murderer Timothy McVeigh, who killed at least 168 people and wounded over 860 others in the April 19, 1995 Oklahoma City bombing.
Background
Born in Lapeer, Michigan, on April 1, 1955, to Robert and Joyce Nichols, Nichols was raised in a farm with his three siblings. He attended Lapeer High School, where he took elective classes in crafts and business law, also played a number of sports and was described as being shy. Graduating in 1973, he enrolled at Central Michigan University, but was unable to adjust to the environment and dropped out after one term passed. In 1974, his brother Leslie was badly burned in a fuel-tank explosion on the farm, and Nichols offered to give skin-grafts for Leslie's surgery. He then tried to resume farming with his brother James, but moved to Colorado after becoming unable to get along with him; he received a license to sell real-estate there. However, Nichols moved back to Michigan after his mother requested his help back at the farm. In 1980, Nichols met real-estate agent Lana Walsh, whom he married a year later and had a son, named Joshua, with another year later; he already had two stepsons from Lana's previous marriage. Lana was described as being the spouse with the job, while Nichols stayed at home and took care of Joshua. In 1988, at the age of 33, he enlisted in the U.S. Army in order to escape the farming life; this prompted Lana to file for divorce. He was sent to Fort Benning in Columbus, Georgia; he had difficulties in physical training due to his age, and the other soldiers sometimes called him "grandpa" due to the fact that he was the oldest member of their platoon. However, Nichols met Timothy McVeigh, and the two became close friends due to their similar interests in gun-collecting and the survivalist movement. They were later stationed together at Fort Riley at Junction City, Kansas, where they met Michael Fortier, whom they befriended. In May 1989, he requested and was given a hardship discharge from the Army in order to take care of Joshua. Before he left, he told a fellow soldier that he would be starting his own military organization with an unlimited supply of weapons.
On November 20, 1990, Nichols, through a mail-order bride agency, married 17-year-old Marife Torres, who was a high-school student from the Philippines and was already pregnant with another man's child at the time. The baby, named Jason, was born on September 21, 1991, and raised as Nichols' own. He frequently visited Torres in the Philippines. In the early 1990s, he developed anti-government views, having spent most of his adult life in Michigan's Lapeer and Sanilac County areas, whose populations primarily hosted conservative farmers who resented and distrusted the U.S. government after banks repossessed numerous farms in the early 1980s after a severe flood devastated the area and left the lands to foreclosure as a result. The residents were so resentful and angry that they formed a number of far-right, anti-government groups, some of which Nichols attended. He was also described as experimenting with explosives and becoming increasingly radical and extreme. On February 1992, he tried to renounce his U.S. citizenship, accusing the political system of being corrupt and declaring himself as a "non-resident alien". Several months afterward, he appeared in court and attempted to avoid responsibility for some of his unpaid credit-card bills, in which he owed an estimated $40,000, refusing to come before the bench and even shouting at the judge, Donald A. Teeple, that "the government had no jurisdiction over him". On October 19, 1992, he signed another document renouncing his citizenship, and in May of the following year, Nichols appeared before a county judge regarding an unpaid credit-card debt of $8,421; he also renounced his driver license. As a result of his anti-government views, Nichols became closer to McVeigh, who shared the same views, after he was discharged from the Army as well. On April 19, 1993, the Waco siege, which lasted for 51 days following a botched ATF search warrant on suspicion of firearm law violations committed by the Branch Davidians on their ranch, ended when a fire broke out, killing many Branch Davidians and their leader David Koresh. Both Nichols and McVeigh were enraged by the outcome and began formulating a revenge scheme on the U.S. government for the following two years.
The Bombing, Arrest, and Incarceration
Sometime during their planning, Nichols and McVeigh decided to choose the Alfred P. Murrah Federal Building in Oklahoma City, Oklahoma, as their target of an attack. On September 22, 1994, they rented a storage shed, and in the following weeks, they began gathering supplies to construct their truck bomb, stealing dynamite and blasting caps from a quarry, purchasing large quantities of ammonium nitrate fertilizer, and robbing a gun dealer in Arkansas, whom they had befriended at several gun shows. Their planning received some assistance from Michael Fortier and his wife Lori, both of whom knew of the attack but did not alert the authorities. On April 16, 1995, he and McVeigh drove to Oklahoma City to drop off a getaway car; two days later, on the day preceding the bombing, Nichols helped McVeigh prepare the truck bomb at a lake near Herington (although McVeigh would go on to allege that Nichols was not present at all during the final preparations). At this point, he and Michael Fortier had decided to partially withdraw themselves from the plot, something that upset McVeigh. On April 19, McVeigh committed the Oklahoma City bombing, effectively killing 168 people and wounding over 860 others; Nichols was with his family at their Kansas home at the time of the attack. Neighbors would go on to describe that he was spreading fertilizer all over his lawn on the morning of the bombing. The day after the bombing, he learned that he was being suspected of the attack, voluntarily turned himself in, and consented to a search to his home. Recovered from his house were bomb-making supplies, a total of 33 firearms, anti-government warfare literature, a receipt for ammonium nitrate fertilizer that had McVeigh's fingerprints on it, a telephone credit-card that McVeigh had used when he was shopping for bomb-making equipment, and a hand-drawn map of downtown Oklahoma City. The Nichols family farm, where he and McVeigh had intermittently stayed at during the months before the bombing, was also searched, with James Nichols being briefly arrested on suspicion of aiding the two of them. Nichols himself was held as a material witness until he was formally charged with the bombing on May 10.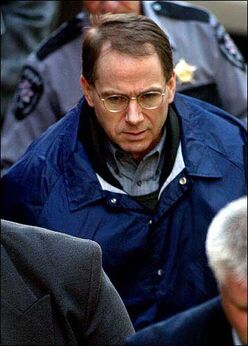 Nichols and McVeigh both went to trial for committing the bombing, with Michael Fortier testifying against them. During Nichols' trial, Marife Torres testified as a defense witness, but she described that her husband had been living a double life prior to the bombing, using aliases, renting storage lockers, and lying that he had broken off his relationship with McVeigh. She also testified that he traveled to Oklahoma City three days preceding the bombing, supporting the prosecution's contention that Nichols had helped McVeigh station the getaway car near the Murrah building. Torres also failed to give Nichols an alibi for April 18, the day the prosecution said Nichols helped McVeigh make final preparations to the truck bomb. Nichols' trial lasted for nine weeks, with the prosecution calling 100 witnesses to tie Nichols to McVeigh and the plot, arguing that he helped McVeigh purchase and steal bomb ingredients, park the getaway car near the Murrah building, and assemble the truck bomb. The defense attempted to cast doubt on the case against Nichols by calling witnesses who said they saw other men working with McVeigh before the bombing and also by claiming the government had manipulated the evidence against Nichols. On December 24, 1997, six months after McVeigh received his death sentence, Nichols escaped a similar sentence after the jury deliberated for 41 hours during a six-day-long period. Although he was found guilty of conspiracy to bomb a federal building along with eight counts of involuntary manslaughter, the jury acquitted Nichols on charges of using a weapon of mass destruction and first-degree murder, apparently agreeing with the defense argument that Nichols had decided to drop out of the plot sometime before the actual bombing. Allegedly, the jury was also swayed by Nichols's show of remorse (he cried at several points during the testimony), which contrasted McVeigh's courtroom demeanor.
In a sixteen-page-long letter written to the judge presiding his trial prior to the imposition of sentence, Nichols wrote, "If I did anything to contribute to the cause of the Oklahoma City bombing I am sorry, I'm truly sorry." He implied in his letter that he never believed McVeigh would actually go through with his bombing plan. After the penalty hearing concluded, the jury deliberated for thirteen hours over two days on whether to give Nichols the death penalty but was deadlocked. The judge then received the option of sentencing Nichols to life in prison with or without the possibility of parole; on June 4, 1998, he decided to sentence him to life in prison without parole, describing him as "an enemy of the [U.S.] Constitution" who had conspired to destroy everything it protects. Nichols showed no emotion from the sentencing. He was sent to the Federal Supermax Prison in Florence, Colorado, which housed McVeigh, Theodore Kaczynski (who expressed admiration of McVeigh and the bombing), and Ramzi Yousef. On February 26, 1999, a federal appeals court affirmed Nichols' conviction and sentence. McVeigh, Nichols and Fortier were the only defendants indicted in the bombing. Nichols denied his involvement in the plot until 2004. On May 2005, Nichols wrote a letter to a relative of two of the victims of the bombing, claiming that an Arkansas gun dealer also conspired in the bombing plot by donating some of the explosives that were used. In a 2006 letter, Nichols admitted his participation in the Oklahoma City bombing, but went on to add that McVeigh had forced and intimidated him into cooperating. In a 2007 affidavit, he claimed that, sometime in 1992, McVeigh alleged that he had been recruited for undercover missions while serving in the military. He added that, in 1995, McVeigh told him that FBI official Larry Potts, who had supervised the Ruby Ridge and Waco operations, had directed him to detonate a bomb at a government building. Nichols then claimed that he and McVeigh had learned how to make the bomb from individuals they met at gun shows. In the same affidavit, he admitted to stealing eight cases of the gel-type explosive Tovex from a Marion, Kansas, quarry alongside McVeigh, some of which was later used in the truck bomb. He also added that he had helped McVeigh mix the bomb ingredients in the truck the day before the attack, but he denied that he knew the exact target of the bomb.
Known Victims
Unspecified date in 1994, Arkansas: Unnamed gun dealer (robbed)
On Criminal Minds
Intro: Nichols' mugshot is one of many shown in the show's intro.
Season One

"Won't Get Fooled Again" - Unlike McVeigh, who was mentioned or referenced a number of times in Criminal Minds, Nichols was only fleetingly referenced when a mugshot of him appeared alongside the mugshot photos of McVeigh and serial bomber Eric Rudolph.

Season Nine

"The Black Queen" - While not directly mentioned or referenced in this episode, Nichols appears to have been an inspiration for John Nichols - Both share the same surname and were members of a team.
Sources