Spider-Man: No Way Home Trailer Dropped - The Loop
Play Sound
"
When you attack one Muslim, you attack all Muslims.
"

— Dzhokhar Tsarnaev
Tamerlan Anzorovich "Tam" Tsarnaev and Dzhokhar Anzorovich "Jahar" Tsarnaev was a team of homegrown terrorists, spree killers, serial bombers, and cop killers who perpetrated the Boston Marathon Bombing, which on April 15, 2013, killed at least five people and severely wounded almost 300 others.
Backgrounds
Tamerlan
Tamerlan was born on October 21, 1986, in Kalmykia, then called the Kalmyk Autonomous Soviet Socialist Republic. His father Anzor was Chechen, while his mother Zubeidat was Avar. As a child, he lived in Tokmok, Kyrgyzstan, with his family, but they later moved to Makhachkala, Dagestan, in 2001. Sometime in 2002, he moved to the U.S. under "derivative asylum status" when his father Anzor applied for asylum out of fear of persecution due to his ties to Chechnya; in March 2007, he and the rest of his family were legal permanent residence. During that time, Tamerlan had settled in Cambridge, Massachusetts. Upon his arrival to the U.S., Tamerlan attended Cambridge Rindge and Latin School, later applying to the University of Massachusetts at Boston, but he was rejected. He then attended Bunker Hill Community College as a part-time student for three terms between 2006 and 2008 but later dropped out to concentrate on boxing. Sometime in 2007, Tamerlan assaulted a Brazilian boy who was dating his younger sister Bella for about two years, with a high-school friend of Bella's saying that Tamerlan was motivated by the fact that the boy was not a Muslim. During 2008, Tamerlan became a devout Muslim, dropping his drinking and smoking habits and regularly attending the Islamic Society of Boston mosque near his home. According to a longstanding critic of the mosque, it allegedly supported anti-West rhetoric and distrust of law enforcement. From 2007 to 2010, he dated an American citizen named Katherine Russell, who converted to Islam in 2008; according to friends, he often verbally abused her. In 2009, he was, by that time, an aspiring heavyweight boxer and won a few boxing trophies. On July 28, Tamerlan was arrested at his home for aggravated domestic assault and battery after he allegedly assaulted a different girlfriend, who described him as trying to force her to convert to Islam and being very controlling over what she wore and whom she associated herself with. In the spring of 2010, Russell became pregnant with Tamerlan's daughter and dropped out of college to marry him on June 21, 2010.
In December of 2010, Russian security forces were made aware of Tamerlan after Russian-Canadian boxer and Muslim extremist William Plotnikov was allegedly revealed to be one of his contacts. In early 2011, the Russian Federal Security Service informed the FBI of Tamerlan's following of extremism, stating that he might be preparing to leave the U.S. and join unspecified underground terrorist groups. Though the FBI interrogated him and several relatives, no evidence of potential terrorist activity was turned up, and the case was closed after the Federal Security Service failed to respond to a request by the FBI for more specific information. In late 2011, he and his mother Zubeidat were placed on the CIA's Terrorist Identities Datamart Environment database. In January 2012, Tamerlan traveled to Russia and then returned exactly six months later. Among the places he visited in the country was the North Caucasas, which was well-known for its presence of separatist movements, ethnic rivalries, extremist Islamist ideology, and militant Islamic activity. It has been assumed that he received training, likely from there, and also became radicalized. Russian reports stated that Dagestan police spotted him making six visits to a known Islamic militant in a mosque that was founded by an associate of Ayman al-Zawahiri, the current leader of the Islamist terrorist organization Al-Qaeda following the death of its founder Osama bin Laden. Tamerlan was also said to be linked to William Plotnikov and 19-year-old Makhmud Mansur Nidal, a suspected recruiter for Islamist insurgents. When both Plotnikov and Nidal were killed, he allegedly fled Russia out of fear of being discovered himself, leaving the country two days after Nidal was killed by police. However, his quick departure attracted Russia's attention, as he stated to have traveled there to pick up his new Russian passport, which he didn't do. Tamerlan returned to the U.S. on May 17, 2012, and had since then began asserting his extremist beliefs.
After returning, Tamerlan created a YouTube channel with playlist links to two videos tagged under the category of "Terrorists"; one of these videos involved Amir Abu Dujana, a.k.a. "Robin Hood", who was a commander of a small Islamist group in the Kizilyurt district, later being killed in battle in late December of 2012. The channel also had links to jihadi videos, some of which were created by controversial Australian Muslim preacher Feiz Mohammad. Tamerlan was also stated to have frequently read Muslim extremist websites, including the Inspire online magazine, which was infamous for being influential towards its audience and for inspiring numerous terrorists, both international and domestic, some of whom reportedly used the magazine's bomb-making instructions to create the weapons they used in their attacks. During 2012 and the time of the bombings, Tamerlan was unemployed, and his wife was forced to work 70 hours a week as a home healthcare aide to support the family while he took care of their daughter. In November, after seeing a sign that was advertising Thanksgiving turkeys, Tamerlan allegedly confronted a shopkeeper near a mosque that he frequented, which was at a Middle Eastern grocery store in Cambridge, Massachusetts, angrily shouting that the sign was "not right". During that same month, he also stood up and challenged a sermon after he promoted celebrating Independence Day and Thanksgiving simultaneous to traditional Muslim holidays. In January 2013, he made similar challenges at another mosque in Cambridge during Martin Luther King, Jr. Day, where he objected to the speaker's comparison of the Muslim Prophet Muhammad to famous civil-rights leader Martin Luther King, Jr. Tamerlan was then shouted down by other members of the congregation and asked to not return to the mosque unless he learned to refrain himself from making objections towards sermons. It has also been reported that this wasn't the first time that Tamerlan disrupted a sermon in that particular mosque.
Dzhokhar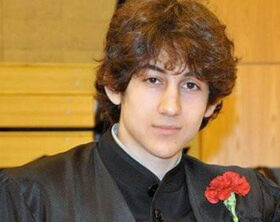 Dzhokhar was born in Tokmok, Kyrgyzstan, on July 22, 1993. As a child, he lived in Tokmok with his family, but they later moved to Makhachkala, Dagestan, in 2001 when he was eight years old. In April 2002, he went to the U.S. with his parents on a tourist visa for 90 days, but his other siblings, including Tamerlan, stayed behind. There, his parents founded a company called Credit Collections Bureau, which is currently located in North and South Dakota. The entire family then settled in Cambridge, Massachusetts, and became permanent U.S. citizens in March 2007; Dzhokhar then became a naturalized U.S. citizen on September 11, 2012 (coincidentally the eleven-year anniversary of the 9/11 terrorist attacks), while he was still attending college. He attended Cambridge Rindge and Latin School, a local public high school, where he was an avid wrestler, being the captain of his high-school wrestling team and a Greater Boston League winter all-star wrestler. In 2011, Dzhokhar graduated from Cambridge Rindge and Latin and enrolled in the University of Massachusetts Dartmouth in North Dartmouth in September with a major in marine biology, stating that he wanted to become a dentist. Acquaintances in college have described Dzhokhar as being "normal" and popular. Dzhokhar was active on several social-network websites, including the Russian-language VK (where he posted links to Islamic websites, videos of fighters in the Syrian civil war, and pages advocating Chechnya's independence) and Twitter (where he allegedly made a post during the 2012 Boston Marathon, in which it mentioned a Koran verse that is often used by radical Muslims). In 2012, his car was investigated by Arlington Heights police officers during an investigation into a report of underage drinking. During the time of the bombings, Dzhokhar was a sophomore who lived in the university's Pine Dale Hall dormitory and was struggling academically, having received a total of seven failing grades, including F's; he was also selling marijuana in order to make money.
Timeline of the Attacks
The Bombings and Investigation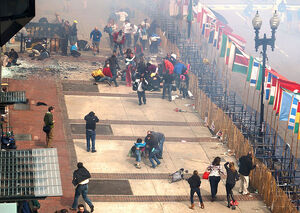 On April 15, 2013, the 2013 Boston Marathon began after spending 26 seconds of silence in honor of the victims killed during the 2012 Sandy Hook Elementary School massacre. A total of 23,336 competitors hailing from all 50 U.S. states, plus Washington D.C. and Puerto Rico, as well as 92 other countries, participated in the marathon. At 2:49:43 p.m., almost two hours after the winners of the marathon completed the race, with more than 5,700 runners still running, a bomb exploded outside the Marathon Sports sporting goods retail store located at 671-673 Boylston Street, wounding dozens of people. Fourteen seconds after the first explosion, a second bomb exploded one block farther west at 755 Boylston Street, claiming more victims. Both bombs blew out windows on adjacent buildings but didn't cause any structural damage. At least 264 people were wounded in the bombings, while three spectators were killed: restaurant manager Krystle Marie Campbell, Chinese national Lü Lingzi, and eight-year-old Martin William Richard. Rescue workers and emergency personnel, who were already present at the scene to assist runners and spectators, (as well as members of the Massachusetts National Guard) immediately rushed medical aid to the wounded victims immediately after the two explosions.
The marathon was halted abruptly, and police officers diverted the remaining participants from the finish line to Boston Common and Kenmore Square, while several buildings were evacuated as a precaution. Officers then closed down a fifteen-block area encompassing the site of the explosions, although it was later reduced to twelve blocks by the next day. In the chaos of the immediate aftermath of the bombings, initial reports gave out confusing preliminary details: some stated that other explosives were found at the site of the explosions (these turned out to be backpacks and other bags dropped by spectators as they fled, although a controlled explosion was performed at the 600 blocks of Boylston Street), while others reported that there was a possible third bombing at the John F. Kennedy Presidential Library in Dorchester (this turned out to be an unrelated electrical fire). As a precaution, transportation services were either halted or rerouted. An investigation into the bombings was launched, led by the FBI and also consisting of the ATF, the CIA, the NCC, and the DEA agencies, which would culminate in the identification of Tamerlan and Dzhokhar. During the investigation, it had been judged that there were no intelligence reports at the time that indicated a high probability of a terrorist attack such as the bombings, and they were able to deduce the type of bombs used and their construction.
Identification, Shooting, and Gunfight
At 5:20 p.m. on April 18, three days after the bombings, the FBI held a press conference, showing photographs and security footage of Tamerlan and Dzhokhar surveying the marathon, both wearing a large backpack and nonchalantly walking in a single-file formation, asking for the public's assistance in identifying them. They then added that Tamerlan and Dzhokhar (referred to in the conference as Suspects 1 and 2, respectively, or simply "Black Hat" and "White Hat") "acted differently" after the blasts, remaining at the scene to survey the damage before casually walking away, rather than fleeing like everyone else, which further added to the suspicion on them. In response to the news conference, multiple photographs and homemade movies were provided by the public, all of which were scrutinized by both the police and online public social networks. Also, Jeff Bauman, one of the wounded victims who lost both of his legs in the bombings, gave a description of one of the bombers to investigators, stating that he saw him place a backpack beside him approximately two-and-a-half minutes prior to the explosion. However, despite all of the evidence being provided for a physical description for both bombers, Tamerlan and Dzhokhar were not formally identified by authorities until they committed a string of crimes in nearby Cambridge, just a few hours after the press conference was held.
At 10:48 p.m., Tamerlan and Dzhokhar went to the Massachusetts Institute of Technology, where they opened fire on 27-year-old Sean Collier, an officer with the Massachusetts Institute of Technology Police Department, who was seated in his police car while on-campus. He was struck by multiple bullets and gravely wounded. The brothers then tried to steal his police-issued pistol, but were unable to get it out of its holster due to its retention system, and were forced to flee. Collier was later taken to Massachusetts General Hospital, where he was declared dead. Following Collier's shooting, the brothers then allegedly carjacked a Chinese national named Dun Meng, who was taken hostage by Tamerlan and forced to drive his Mercedes-Benz SUV while Dzhokhar followed in the brothers' green Honda Civic. During the carjacking, Tamerlan confessed to Meng that he and his brother were responsible for the bombings and Collier's shooting. Allegedly, the brothers "decided spontaneously" to travel to New York City and attack Times Square. Meng was then forced by them to withdraw $800 in cash using his ATM cards until the daily cash-withdrawal limit was reached, and later, his SUV was used to hold several items belonging to the brothers that were transferred from the Honda. Finally, Meng was able to escape Tamerlan and Dzhokhar when they stopped at a gas station, fleeing to a second gas station located across the street. He left his cellphone in the SUV, which enabled the police to track it, and therefore the brothers.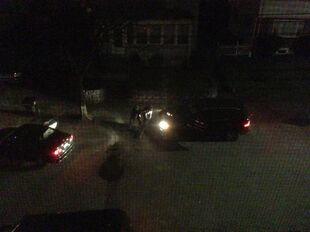 On April 19, shortly after midnight, a police officer in nearby Watertown spotted and identified Tamerlan and Dzhokhar driving the Honda and the stolen SUV, both of which had been placed in an all-points bulletin. Police pursued them to the 100 blocks of Laurel Avenue, where a gunfight ensued at around 12:30 a.m. During the shootout, approximately 200-300 bullets were fired by both the brothers and police officers, while the brothers also flung a pressure cooker bomb and several "crude grenades". The gunfight lasted for approximately ten minutes, during which both brothers were shot several times; Dzhokhar was also seriously wounded in the neck, possibly by shrapnel from a bomb explosion. When Tamerlan ran out of ammunition, he was tackled to the ground by police officers. Dzhokhar retreated back to the stolen SUV and drove towards Tamerlan and the police officers, running the former over and dragging him a short distance (about 30 feet) down the street. He then sped off, but abandoned the SUV about a half-mile away, escaping on foot. Tamerlan was recaptured by police and taken to Beth Israel Deaconess Medical Center, where he was declared dead; a death certificate would later verify the cause of his death as gunshot wounds and blunt trauma. A total of sixteen police officers suffered injuries related to the shootout; one such officer, Richard H. Donahue, Jr., of the Massachusetts Bay Transportation Authority, suffered the most critical wounds (which were presumed by the Boston Globe to have been caused by friendly fire), losing almost all of his blood and being kept alive by CPR when his heart stopped for 45 minutes.
Manhunt and Capture of Dzhokhar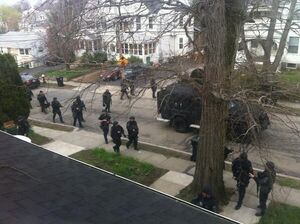 On the morning of April 19, residents of Watertown and adjacent cities and towns were placed under a shelter in place, while a twenty-block area of Watertown was cordoned off, with residents being unable to leave their homes (although some were told to vacate the houses later as a precaution for such searches) or answer their doors as police officers searched the area for Dzhokhar, who was presumed to be in the area. Thousands of agents from the FBI, ATF, and DHS; National Guardsmen; and officers from the Boston and Watertown Police Departments, as well as the Massachusetts State Police participated in the search, making the manhunt the first major field test for inter-agency task forces that were created after the 9/11 attacks. Many houses in the area were searched without warrants, and some people were actually even led out of their homes at gunpoint. Public transportation networks were suspended, while universities, schools, businesses, and other facilities were closed as a result of the manhunt. A house that belonged to both brothers was searched by police and bomb squads, who recovered a total of seven improvised explosive devices. During the manhunt, several members of the Tsarnaev family, including the brothers' father, pleaded with Dzhokhar to turn himself in peacefully.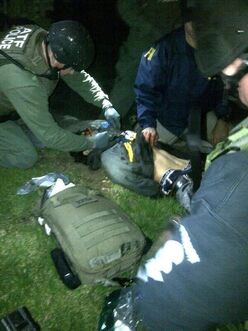 On the evening of April 19, the manhunt ended when Dzhokhar was found wounded in a boat in a backyard located less than a quarter-mile away from where he abandoned the stolen SUV. The boat's owner David Henneberry noticed that the boat's cover was loose and decided to investigate when the shelter in place was lifted. Upon checking the boat, he found a bloodied Dzhokhar inside and called 9-1-1. Police immediately surrounded the area and later verified his movement inside the boat through an infrared thermal-imaging device inside a State Police-issued helicopter that surveyed the boat and the backyard. When Dzhokhar began poking at the boat's tarp, police suddenly began opening fire on the boat, only stopping after the present Superintendent ordered a ceasefire. Initial news reports indicated that police opened fire because Dzhokhar was firing at them from inside the boat, but these details were later verified as false when it was revealed that he was found unarmed at the time of his capture. Likely due to his wounds, from which he was severely bleeding from, Dzhokhar climbed out of the boat, surrendered, and was taken to the ground by a SWAT officer, where he was arrested on 8:42 p.m. He was then transported to Beth Israel Deaconess Medical Center (the same hospital that declared his brother Tamerlan dead), where he was listed as being in critical condition. It was initially assumed that the neck wound that he (presumably) suffered from a bomb explosion was instead a self-inflicted gunshot wound made during a suicide attempt, but they were contradicted by the fact that he was unarmed at the time of his arrest, plus the fact that the wound was more of a "slicing injury" more characteristic of a shrapnel wound.
Aftermath
Trial of Dzhokhar
It was later revealed that Dzhokhar initially wasn't read his Miranda rights during his arrest due to the Justice Department invoking the public-safety exception. Upon regaining consciousness, Dzhokhar was said by a nurse to have cried for two days straight. He was questioned by investigators for a total of sixteen hours. On April 22, he was charged with "using and conspiring to use a weapon of mass destruction resulting in death" and also with "malicious destruction of property resulting in death", both in connection with the marathon bombings. He was then read his Miranda rights at his bedside by a federal magistrate of the Massachusetts District Court, prompting him to stop talking "immediately" the moment they were read. As a result, this raised doubts over the legitimacy of the answers he gave investigators as evidence and led to a debate surrounding Miranda rights. Merely, he would nod his head to answer the judge's questions, but answered "no" when asked whether he could afford a lawyer. Four days afterward, he was transported by U.S. Marshals to the Federal Medical Center in Devens, Massachusetts, where he was held in solitary confinement at a segregated housing unit. It was suggested by several politicians that Dzhokhar, a U.S. citizen, be tried as an unlawful enemy combatant rather than as an ordinary criminal, although it was countered with statements that to do so was considered to be illegal and would jeopardize the case's prosecution. In the end, the U.S. government agreed to try him in the federal criminal court system and not as an unlawful enemy combatant.
On July 10, Dzhokhar appeared in court, pleading not guilty to approximately thirty charges, which included the murder of Sean Collier. On October 2, his defense attorneys asked the court to lift the special administrative measures that were being imposed by U.S. Attorney General Eric Holder in August, citing that the measures have left him unduly isolated from communication with his family and lawyers and that no evidence suggested his credibility as a threat in the future. On September 24, 2014, it was announced that Dzhokhar's trial will begin on January 5, 2015, instead of the pre-planned date of November 3, 2014, at the request of his defense attorneys due to extensive media coverage. When the trial began, his attorney proclaimed her knowledge that it was indeed her client who committed the attacks. However, she continued to defend him, saying that Tamerlan manipulated him into participating. On April 8, 2015, after weeks of testimony and a day of jury deliberation, Dzhokhar was declared guilty on all counts and is eligible for the death penalty. The parents of one of the slain victims and several survivors have urged against a death sentence, citing that the subsequent lengthy appeals period would repeatedly remind them of what happened on the day of the bombings. They instead pleaded for Dzhokhar to be sentenced to life in prison without parole. On May 15, Dzhokhar was sentenced to death.
Investigation Developments
According to officials, Dzhokhar revealed that he and Tamerlan learned to manufacture their explosives from Inspire, an online magazine published by the Yemen branch of the terrorist organization al-Qaeda. He also allegedly stated that he and Tamerlan initially planned to commit suicide attacks during a Fourth of July celebration, but then decided to use pressure cooker bombs due to their power and ability to remote detonation. It is further alleged that the brothers decided to target the 2013 Boston Marathon as a "target of opportunity" when they were able to finish the bombs faster than they expected. In addition, Dzhokhar allegedly revealed that he and Tamerlan were motivated to commit the terrorist attacks in an attempt to "defend" Muslim countries, and Islam as a whole, from the U.S., whom they felt were engaging them in illegal wars such as the Iraq and Afghanistan wars. According to a report, a note found scrawled on the interior wall of the boat Dzhokhar was hiding stated that the bombings were retribution against the aforementioned wars and also called the fatalities of the bombings "collateral damage" in the same way civilians were killed in U.S. wars waged around the world. Despite the indication of religious radicalization motivating the brothers, it has been suggested to play only a secondary role, with sympathy towards the political aspirations in the Caucasus region and Tamerlan's inability to become fully integrated into American society being reported as possible primary motivations. It was later revealed that Tamerlan was the mastermind of the bombings and that Dzhokhar was merely recruited to aid him.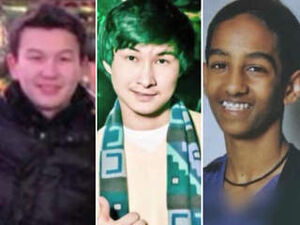 On the night of April 18-19, two Kazakhstan natives, 19-year-old Dias Kadyrbayev and 20-year-old Azamat Tazhayakov, as well as a girlfriend of one of the men (all three of whom were roommates of Dzhokhar), were arrested at a New Bedford off-campus housing complex where Dzhokhar sometimes stayed at. All three were released, but on April 20, the day after Dzhokhar's capture, Kadyrbayev and Tazhayakov were arrested again and held on immigration-related violations, specifically overstaying their student visas. On May 1, they were charged for the violations, as well as "wilfully (sic) conspir[ing] with each other to commit an offense against the United States...by knowingly destroying, concealing and covering up objects belonging to Dzokhar (sic)...namely, a backpack containing fireworks and a laptop computer, with the intent to impede, obstruct, and influence the criminal investigation of the Marathon bombings". 19-year-old, Ethiopia-born Robel Phillipos, a naturalized U.S. citizen who also knew Dzhokhar, was arrested as well, for knowingly giving false statements to investigators. It was revealed that Kadyrbayev, Tazhayakov, and Phillipos allegedly traveled to Dzhokhar's dorm room to retrieve his backpack and laptop after seeing released photos of him at the scene of the bombings, being unidentified at the time. They then discarded the backpack, but it was later recovered in a New Bedford landfill on April 26. On August 8, Kadyrbayev and Tazhayakov were indicted by a federal grand jury on charges of conspiracy to obstruct justice. Dzhokhar, Kadyrbayev, Tazhayakov, and Phillipos were all students of the University of Massachusetts at Dartmouth, entering in the fall of 2011. Two other friends of Dzhokhar were also charged in connection to the bombings: Khairulluzon Matanov, who was accused of lying to investigators about the extent of his friendship with Dzhokhar and the contact he made with the brothers following the bombings; and Stephen Silva, who illegally owned the pistol used by the brothers to kill MIT officer Sean Collier.

On April 22, the Middlesex County District Attorney's office revealed that it had tied Tamerlan to a triple homicide that occurred in Waltham, Massachusetts, on September 11, 2011, the ten-year anniversary of the 9/11 attacks. Three men, identified as Brendan Mess, Erik Weissman, and Raphael Teken, were murdered by having their throats slashed from ear to ear with either an icepick or a knife, with such force that they were nearly decapitated. Their bodies were left in separate rooms, covered by thousands of dollars' worth of marijuana and a sum total of $5000 in cash, which crossed robbery out as a motive. According to evidence, the murders were not at random, since no signs of forced entry were found and that all three were killed despite being physically strong. The killings were assumed to have been drug-related at the time of the initial investigation, since Weissman was charged with marijuana possession and intent to distribute after being pulled over in his car, and Teken was assumed to be a drug dealer due to his shady lifestyle and regular amount of visitors. Two unidentified men were spotted near the crime scene before the murders occurred and were assumed to be the killers. When the investigation reopened in 2013, it was revealed that all three victims were Jewish according to multiple sources. Tamerlan was also a good friend of Mess's (even being considered his "best friend"), both being boxers, although they allegedly recently held animosity towards each other due to Mess's "lifestyle". It was noted that Tamerlan never attended Mess's funeral or his memorial service. On May 10, investigators reportedly developed "mounting evidence" supported by "forensic hits" when evidence provided a match to the brothers, pointing to the possible involvement of both Tamerlan and Dzhokhar in the killings, although it has been said that further definitive DNA testing must be completed before an indictment against Dzhokhar can be considered. The brothers' cellphone records also appeared to have reportedly put them both in the area of the murders on that date.
On March 29, 2014, it was alleged that prior to the bombings, the FBI had encouraged Tamerlan to be an informant for them, specifically to survey and report on the Chechen and Muslim community in Boston, and that this encouragement only led to further "paranoia and distress" that sparked Tamerlan to plot the bombings. The U.S. government denied the authenticity of the allegations.
Ibragim Todashev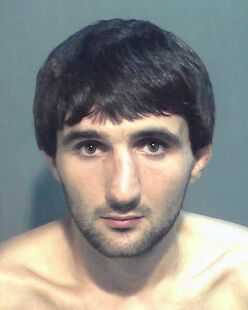 Ibragim Todashev was born on September 22, 1985, in Grozny, the then-capital of the Chechen-Ingush Autonomous Soviet Socialist Republic (an autonomous republic of the then-existent Soviet Union). He was the eldest of twelve children between his father Abdulbaki and his two wives. In his adulthood, under his father's influence, he moved to the U.S. to study English on a J-1 non-immigrant visa as part of a student-exchange program, after studying at Saratov State and Chechen State Universities for four years. In 2008, he was then granted asylum in the country, followed by permanent residence on March 2013, a month preceding the marathon bombings. Allegedly, Todashev had lied to the U.S. State Department and Homeland Security in order to gain entry into the U.S., and that he was granted asylum for no valid reason due to being in no personal danger of repression or ethnic or religious persecution in Chechnya. In 2010, Todashev met an Armenian-American woman named Reni Manukyan, whom he later married and converted to Islam, but they separated in November 2012. He later became an amateur boxer, then focusing on the MMA venue, but later had to quit after suffering a serious knee injury. According to his father, Todashev held several jobs in Boston before moving to Florida.
During his career as a boxer, Todashev met and befriended Tamerlan, who worked at the same gym as he did and also lived close to him in Cambridge. Preceding the police shooting that killed him, he experienced several notable problems with the law. In 2010, while at Boston, Todashev was arrested during a violent road-rage incident, which appeared to be sparked after someone insulted his mother. On May 4, 2013, shortly before his death, he was arrested in Orange County, Florida, after he assaulted two people (knocking one of them unconscious) during a dispute over parking space. He fled the scene, only to be chased down by police officers and arrested him at gunpoint; Todashev would later go on to claim that he only fought back to protect his wounded knee, which recently had surgery. At the time of his shooting, he was freed on $3500 bail for the Orange County incident after he was charged with aggravated battery. Sometime immediately prior to the police shooting, Todashev's friendship with Tamerlan was examined by investigators who recently reopened the 2011 Waltham triple homicide.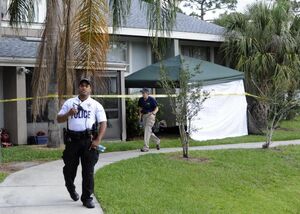 In the afternoon of May 22, 2013, law-enforcement officers, including an FBI agent, arrived at Todashev's residence in Orlando, Florida, and began interviewing him about Tamerlan and the Waltham triple homicide. The interrogation lasted for approximately eight hours and ended when Todashev made statements that implicated himself and Tamerlan in the triple homicide soon after midnight. He then allegedly began to write down a formal statement before asking if he could take a break before suddenly attacking the FBI agent. At that point, details regarding the shooting are confusing due to conflicting reports. Some say that Todashev picked up or tried to pick up some sort of bladed weapon (described as either a knife or a samurai sword), while others stated that he was unarmed at the time of the shooting. According to a law-enforcement official, Todashev knocked the FBI agent down to the ground with a table, superficially wounding him, and then lunged at him with a metal pole or a broomstick, to which police officers present in the room opened fire. According to former FBI deputy director John Miller, a Massachusetts State Police trooper present in the room at the time of the interrogation noticed Todashev's increasingly agitated behavior and sent a text message to the FBI agent, warning him of the change in behavior; when the agent looked down to read the text, Todashev took this time to attack, knocking the agent to the ground with the table, but was then shot multiple times by him and killed. In the aftermath of the police shooting, Todashev's body was flown back to Russia on June 20 and later buried in a Grozny cemetery nine days later.
Controversies
The day-long shelter in place imposed during the manhunt for Dzhokhar was criticized as being an overreaction by some people. It was said that that it was not the first time dangerous murderers have been at large in a large city, such as Christopher Dorner in February 2013 and the Beltway sniper attacks in October 2002, but a lock-down wasn't used in either manhunt. Moreover, several have stated that martial law does not work, since Dzhokhar wasn't found until the shelter in place was actually lifted. It has also been commented by New York Times columnist Ross Douthat that the massive manhunt operation that was put into Dzhokhar's search and capture would potentially only deter amateur terrorists, but not "hardcore terrorists".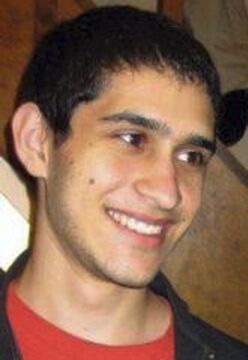 There has also been a notable controversy surrounding the mis-identification of 22-year-old Sunil "Sunny" Tripathi as one of the bombers. Tripathi was an undergraduate student at Brown University who went missing on March 16 after suspending his studies due to depression. In the aftermath of the marathon bombings, he was among several people who were identified as a suspect by people frequenting social-media websites; one of the people who theorized that he was a suspect was a former high-school classmate who hadn't seen him in three years. According to BBC, Tripathi became a "standout suspect" before Tamerlan and Dzhokhar were properly identified as the primary suspects of the bombings. Before the proper identification of the brothers, it was suggested by social-media users that Tripathi was actually Dzhokhar, since their facial features were similar. When it was revealed that Tripathi wasn't actually a suspect, media outlets questioned the actual legitimacy of "crowd-sourced investigations" and the fact that they would potentially cause emotional harm to the families of mis-identified suspects, as well as actual harm to people who were mis-identified as suspects. In the wake of such mis-identification, social news and entertainment website Reddit issued a public apology for listing the subreddit "Find Boston Bombers", which encouraged an "online witch hunt" that helped to wrongly accuse Tripathi and other people. On April 23, four days after Dzhokhar's capture, Tripathi's body was found floating in the Providence River and identified through dental records; though the cause of death wasn't immediately known, foul play wasn't suspected.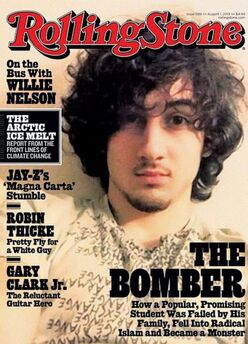 On August 2013, the magazine Rolling Stone released its monthly edition, which featured a cover page depicting a photo of Dzhokhar that he took while still hospitalized from his injuries; previously, a similar cover page was used by The New York Times on May 5. The Rolling Stone cover page drew massive criticism for its choice of the photo, which seemed to convey glamorization of Dzhokhar. Numerous companies banned their stores from selling the editions, and Boston mayor Thomas Menino wrote a letter to the magazine publisher Jann Wenner, in which he called the cover page "ill-conceived" and criticized him for not instead dedicating the cover stories to survivors of the bombings. Many artists and celebrities, as well as Richard Donahue (the officer who suffered the most critical injuries during the Watertown shootout), have also heavily criticized Rolling Stone for the cover page. Rolling Stone stated on the issue, "The cover story we are publishing this week falls within the traditions of journalism and Rolling Stone's long-standing commitment to serious and thoughtful coverage of the most important political and cultural issues of our day. The fact that Dzhokhar Tsarnaev is young, and in the same age group as many of our readers, makes it all the more important for us to examine the complexities of this issue and gain a more complete understanding of how a tragedy like this happens." Several others have also defended Rolling Stone, stating that the photo effectively demonstrates that Dzhokhar's "innocence" perfectly masked his intents on terrorism, and also that such criticism towards the magazine goes against their right of free speech. Many parodies of the cover page have since been made, including ones depicting assassins John Wilkes Booth and Lee Harvey Oswald.
Modus Operandi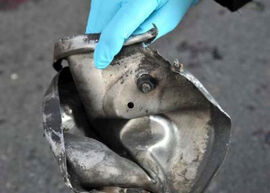 The Tsarnaev brothers used homemade bombs with pressure cookers as containers (called "pressure cooker bombs") when they attacked the 2013 Boston Marathon. These bombs were fitted with shrapnel consisting of bits of metal, nails, and ball bearings, and were detonated through long-range remote controls used for toy cars. The bombs were powerful, although since they were placed so low on the ground, it resulted in few fatalities and hundreds of injuries, many of which suffered lower leg injuries and shrapnel wounds, some even losing one or both of their legs. When they killed MIT police officer Sean A. Collier, they shot him repeatedly with a 9mm Ruger P95 semiautomatic pistol. During the Watertown shootout, they used the same pistol, as well as one further pressure cooker bomb and several "crude grenades". Several improvised explosive devices of an unspecified nature were also found at the brothers' house.
Known Victims
Fatalities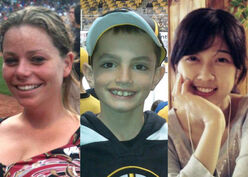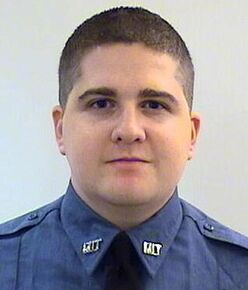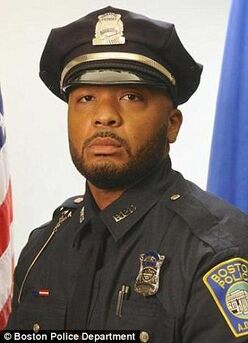 September 11, 2011, Waltham, Massachusetts (possibly; all of their throats were slashed to the point of near-decapitation; assumed to have been murdered by Tamerlan alone):

Brendan Mess, 25
Erik Weissman, 31
Raphael Teken, 37

2013:

April 15, Boston, Massachusetts: The Boston Marathon bombings:

Krystle Marie Campbell, 29 (killed by the first bomb)
Lü Lingzi, 23 (killed by the second bomb)
Martin William Richard, 8 (killed by the second bomb)

April 18, Cambridge, Massachusetts: Sean A. Collier, 27 (MIT police officer; shot six times in the head and right hand with a 9mm pistol)
April 19, Watertown, Massachusetts:

Officer Dennis Oliver Simmonds, Jr., 28 (hit in the head by shrapnel; survived, but died on April 10, 2014, from his injuries)
Tamerlan Tsarnaev, 26 (run over by Dzhokhar; it is unknown if this killed him or not; his death was ruled a homicide)
Injuries
2013:

April 15, Boston, Massachusetts: The Boston Marathon bombings:

Heather Abbott, 38 (wounded in the leg)
Ascer Barlatier, 35 (wounded in the chest and leg)
Jeff Bauman, Jr., 27 (wounded in the leg)
Erika Brannock, 29 (wounded in the leg)
Karen Brassard, 51 (wounded in the leg and ankle)
Krystara Brassard, 20 (wounded in the hip and ankle)
Ron Brassard, 51 (wounded in the leg, arteries, and nerves)
Kaitlynn Cates, 25 (wounded in the leg)
Liza Cherney
Jenny Chung (wounded by shrapnel)
Jarrod Clowery, 35 (wounded in both legs; also suffered hearing loss)
Celeste Corcoran, 47 (wounded in the leg)
Kevin Corcoran
Sydney Corcoran, 17 (wounded in the leg)
James Costello (wounded in both legs)
J.P. Craven, 24 (wounded in the head)
Mery Daniel, 31 (wounded in the leg)
Zhou Danling (wounded in the stomach)
Adam Davis, 33 (wounded in the foot and leg)
Pete DiMartino, 28 (wounded in both ankles)
Jessica Downes, 32 (wounded in both legs)
Patrick Downes, 30 (wounded in both legs)
Darrel Folkert, 42 (wounded in both legs)
Marc Fucarile, 34 (wounded in the leg and chest)
Alvaro Galvis, 62 (wounded in the leg and buttocks)
Martha Galvis, 60 (wounded in the leg and hand)
Sarah Girouard, 20 (wounded in the lower extremities)
Rebekah Gregory, 26 (wounded in the leg)
Michael Gross, 38 (wounded in the head)
Nicole Gross, 31 (wounded in the leg and ear)
Adrianne Haslet, 32 (wounded in the leg)
Aaron Hern, 11 (wounded in the leg)
Marilyn Knight, 63 (wounded in the leg)
Remy Lawler, 25 (wounded in both legs)
Michelle L'Heureux (wounded in the arm and leg)
Brittany Loring, 29 (wounded in the head, leg, and arm)
Sarah MacKay, 21 (wounded in the leg and ear)
Victoria McGrath, 20 (wounded in both legs)
Ryan C. McMahon, 33 (wounded in the back and arm)
J.P. Norden, 31 (wounded in the leg)
Paul Norden, 33 (wounded in the leg)
John Odom, 65 (wounded in the leg)
Karen Rand, 52 (wounded in the leg)
Caroline Reinsch, 39 (wounded in the leg and ear)
Gillian Reny, 17
Denise Richard (mother of fatal victim Martin Richard; wounded in the upper body)
Jane Richard, 7 (sister of fatal victim Martin Richard; wounded in the leg)
Beth Roche, 59 (wounded in the leg)
Roseann Sdoia, 45 (wounded in the leg)
Dan Soleau, 36 (suffered hearing loss)
Denise Spenard (wounded in the abdomen)
Jacqui Webb (wounded in the leg)
Ann Whalley, 65 (wounded in the leg)
Eric Whalley, 65 (suffered severe wounds, including in the head)
Kevin White
Mary Jo White (wounded in the hand)
William White (wounded in the leg)
Christian Williams, 41 (wounded in the leg and hand)
Lee Ann Yanni, 31 (wounded in the leg)
Nicholas Yanni, 32 (wounded in the head)
David Yepez, 15 (wounded in the head and arm)
Unnamed five-year-old boy
Unnamed nine-year-old girl (wounded in the leg)
At least 201 other unnamed people

April 19, Watertown, Massachusetts: The shootout:

Richard H. Donahue, Jr.
Thirteen other unnamed police officers
Notes
Prior to Tamerlan and Dzhokhar's official identification as the bombers, there have been speculations about the timing of the Boston Marathon bombings. On the week the bombings occurred, there were upcoming anniversaries of other American tragedies: the Waco siege that occurred on April 19, 1993; the Oklahoma City bombing that occurred on April 19, 1995; the Columbine High School massacre that occurred on April 20, 1999; and the Virginia Tech massacre that occurred on April 17, 2007. The same week also coincided with the birth of Adolf Hitler on April 20, 1889. April 15, 2013, also marked the observances of the Massachusetts holiday Patriots' Day and Tax Day.

Also, on the following two days after the bombings, a series of ricin letters were sent from Memphis, Tennessee, to President Barack Obama and two Mississippi public officials. In addition, two days after the bombings (and on the anniversary of the aforementioned Virginia Tech massacre), a fertilizer plant exploded in West, Texas, which is located just twenty miles from Waco, the location of the aforementioned Waco siege; the explosion was revealed in 2016 to have been triggered by an arson fire.
On Criminal Minds
Season Nine
Season Ten
Season Eleven

"The Witness" - The Tsarnaev brothers were most recently mentioned by Morgan (though not by name) as an example of small-scale homegrown terrorism, and their terrorist campaign was compared to the case at hand. They may have also provided some inspiration for the episode's unsub, Mitchell Crossford - Both were homegrown terrorists with brothers who were inspired by an extremist ideology and conspired to commit terrorist attacks.
Sources
Wikipedia:
Boston Globe online articles:
Huffington Post articles:
Yahoo! News articles: