Season Thirteen is the thirteenth season of Criminal Minds. On April 7, 2017 CBS announced the renewal of Criminal Minds for the 2017-2018 TV season, with a standard initial order of 22 episodes. The season premiered on September 27, 2017.
The DVD was released on August 28, 2018.
Ratings
No ratings information is available at this time.
Cast
Episodes
Image
Title
Airdate
Writer
Director
Season Episode
Series Episode
"Wheels Up"
September 27, 2017
Breen Frazier
Glenn Kershaw
1
278
The BAU teams up with Matthew Simmons to save one of their own from Mr. Scratch.
"To A Better Place"
October 4, 2017
Bruce Zimmerman
Diana Valentine
2
279
When the remains of three people are found in suitcases, the BAU works to determine if there is any connection.
"Blue Angel"
October 11, 2017
Christopher Barbour
Sharat Raju
3
280
The BAU is sent to Detroit to help locate an unsub attacking successful businessmen.
"Killer App"
October 18, 2017
Stephanie SenGupta
Alec Smight
4
281
The BAU travels to Silicon Valley to uncover the mastermind that used a state-of-the-art drone to commit a workplace shooting.
"Lucky Strikes"
October 25, 2017
James T. Clemente
Tawnia McKiernan
5
282
Derek Morgan drops by the BAU to help comfort Garcia when a case brings back memories of a case from her past.
"The Bunker"
November 8, 2017
Karen Maser
Aisha Tyler
6
283
The BAU works to determine similarities between multiple missing women in the hopes of finding their kidnapper.
"Dust and Bones"
November 15, 2017
Erica Meredith
Marcus Stokes
7
284
The BAU travels to Austin, Texas to search for an unsub that is hunting down highly respected community members.
"Neon Terror"
November 22, 2017
Erik Stiller
Bethany Rooney
8
285
The BAU travels to Miami to stop an unsub who gives footage of his crimes to the media.
"False Flag"
December 6, 2017
Breen Frazier
Joe Mantegna
9
286
The BAU travels to Roswell, New Mexico to find an unsub who killed two people belonging to the same conspiracy group.
"Submerged"
January 3, 2018
Bruce Zimmerman
Rob Bailey
10
287
The BAU searches for an unsub responsible for multiple backyard pool homicides.
"Full-Tilt Boogie"
January 10, 2018
Erica Messer and Kirsten Vangsness
Simon Mirren
11
288
When the wife of a small town's police chief is almost murdered, the BAU travels to Virginia and uncovers multiple disturbing secrets.
"Bad Moon on the Rise"
January 17, 2018
Karen Maser
Christoph Schrewe
12
289
When brutal casualties are reported in New York, the BAU is called to investigate.
"Cure"
January 24, 2018
Christopher Barbour
Glenn Kershaw
13
290
The BAU travels to Washington D.C. to uncover the meaning behind a series of messages left in the mouths of multiple murder victims.
"Miasma"
January 31, 2018
Erica Meredith
Leon Ichaso
14
291
The BAU travels to New Orleans to find the unsub responsible for filling a recently-discovered mass grave in a local cemetery.
"Annihilator"
March 7, 2018
Erik Stiller
Rob Bailey
15
292
Assistant Director Linda Barnes joins the BAU in investigating a quadruple homicide in St. Louis.
"Last Gasp"
March 14, 2018
Stephanie SenGupta
Adam Rodriguez
16
293
The BAU works in secret to catch an unsub who abducts and photographs young women.
"The Capilanos"
March 21, 2018
Erica Messer
Matthew Gray Gubler
17
294
The BAU travels to Guymon, Oklahoma to capture a clown terrorizing the sleepy town.
"The Dance of Love"
March 28, 2018
Bruce Zimmerman
Joe Mantegna
18
295
The BAU travels to Chicago to capture an unsub who places roses next to his victims. Also, Rossi receives a visit from one of his ex-wives.
"Ex Parte"
April 4, 2018
Christopher Barbour
Lily Mariye
19
296
When a hostage situation takes place at the law firm where Kristy Simmons works, the BAU attempts to resolve the crisis.
"All You Can Eat"
April 11, 2018
Karen Maser
Diana Valentine
20
297
The BAU works with the CDC to determine whether or not a series of sudden deaths in Virginia are connected to bioterrorism. Also, Garcia and her step-brother work through a family issue.

"Mixed Signals"
April 18, 2018
Erica Meredith and Erik Stiller
Alec Smight
21
298
The BAU travels to Taos, New Mexico to locate an unsub who targets specific parts of the victims' brains.
"Believer"
April 18, 2018
Breen Frazier
Glenn Kershaw
22
299
When a former VICAP agent is found locked inside a storage unit, the BAU finds multiple holes in his investigation towards an Unsub he investigated dubbed "The Strangler".
Highlights
The season will begin where the previous season left off, showing the results of Peter Lewis' vehicular attack on the BAU. Both Kirsten Vangsness and Daniel Henney confirmed that a member of the team will be abducted from the crash site and Garcia will contact Matthew Simmons to help with the aftermath of Peter's attack.[1]
The season will also focus on Spencer Reid's future with the Bureau following his being framed for murder by a trio led by Cat Adams in the previous season.
On June 12, 2017, it was announced that Damon Gupton will not reprise his role as Stephen Walker for this season due to being fired by CBS after one season. Eight days later, it was announced that Daniel Henney will be filling in the void left by Gupton, reprising his role as Matthew Simmons from the recently canceled spin-off series Criminal Minds: Beyond Borders.
In August 2017, Kelly Frye, the actress who portrayed Matthew Simmons' wife Kristy in Beyond Borders, announced via Twitter that she would reprise her role in the original series this season, beginning with the fourth episode. The couple's sons, David and Jake, portrayed by child actors Declan Whaley and Ezra Dewey respectively, will also return this season as recurring characters, also starting with the fourth episode.
Erica Messer confirmed that Jamie Kennedy, who portrayed cannibalistic serial killer Floyd Feylinn Ferell in the Season Three episode Lucky, will reprise his role in the sixth episode, which will have a heavy impact on the stories and emotions of several characters.
Matthew Gray Gubler will direct an episode for the season, which will revolve around clowns. Also, Aisha Tyler will direct the season's fifth episode. On September 27, Kirsten Vangsness announced that Adam Rodriguez would also direct an episode this season.
On October 12, 2017, it was announced that Shemar Moore will reprise his role as Derek Morgan in the sixth episode of Season Thirteen. In this episode, he will be helping Penelope Garcia persevere through a case that has emotionally affected her.
On January 16, 2018, it was announced that Days of our Lives veteran Drake Hogestyn is set to guest-star on an upcoming episode in an "elite" role as Senator Alfred Mayhew, who is described as a "powerful congressman and part of the D.C. elite."[2]
On February 20, 2018, it was announced that later in a future episode this spring, a parole hearing will be held for the drunk driver that killed Penelope's parents. Her estranged stepbrother will resurface and urge Penelope to testify.[3]
Opening Credits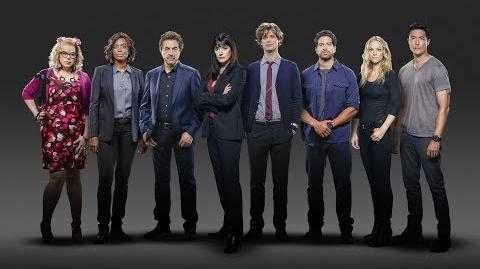 References
↑ http://ew.com/tv/2017/08/14/criminal-minds-daniel-henney/?utm_campaign=entertainmentweekly&utm_source=facebook.com&utm_medium=social&xid=socialflow_facebook_entertainmentweekly
Community content is available under
CC-BY-SA
unless otherwise noted.