Season Five is the fifth season of Criminal Minds. It ran from September 23, 2009 til May 26, 2010. The DVD was released on September 7, 2010 in a set that contains several Special Features.
Ratings
Season Five received 13.695 million viewers and a 3.60 score in the A18-49 demo on CBS. The season premiere drew 15.85 million U.S. views while the the finale drew 12.97 million U.S. views.
Cast
Episodes
Image
Title
Airdate
Writer
Director
Season Episode
Series Episode
"Nameless, Faceless"
September 23, 2009
Chris Mundy
Charles S. Carroll
1
92
The BAU is assigned in their own hometown to profile a killer who is targeting an emergency room doctor and his son. Also, Prentiss stops by at Hotch's apartment to find that he is missing.
"Haunted"
September 30, 2009
Erica Messer
Jon Cassar
2
93
The BAU is called to Louisville to help local authorities determine what caused a disturbed man to have a psychotic break at a pharmacy and attack several people before fleeing the scene. Meanwhile, the team notices an odd change in Hotch's behavior.
"Reckoner"
October 7, 2009
Jay Beattie and Dan Dworkin
Karen Gaviola
3
94
Rossi's personal and professional life is brought to the forefront when the BAU is called to investigate a case in Commack, Long Island, Rossi's hometown.
"Hopeless"
October 14, 2009
Chris Mundy
Félix Enríquez Alcalá
4
95
The BAU investigates a group of suspects with a pack mentality who are randomly selecting their victims in the nation's capital and murdering them for the thrill of it.
"Cradle to Grave"
October 21, 2009
Breen Frazier
Rob Spera
5
96
The BAU travels to Albuquerque to investigate the case of a serial killer who impregnates young women and murders them after they have given birth. Meanwhile, Morgan is puzzled when Hotch begins giving him tasks on his own.
"The Eyes Have It"
November 4, 2009
Oanh Ly
Glenn Kershaw
6
97
The BAU is called to Oklahoma City to help local authorities track a serial killer who removes the eyes of his murder victims and keeps them as souvenirs.
"The Performer"
November 11, 2009
Holly Harold
John Badham
7
98
The BAU is called to Los Angeles to investigate a series of killings that lead to a Goth rock star who appears to have become lost in the creepy alter-ego he portrays when he is onstage.
"Outfoxed"
November 18, 2009
Simon Mirren
John Gallagher
8
99
While investigating a series of murders of families in Hampton, Virginia, the BAU is forced to visit Red Onion Supermax Prison to seek advice from one of the most atrocious killers from the team's past, who delivers a portentous message to Hotch.
"100"
November 25, 2009
Bo Crese
Edward Allen Bernero
9
100
When the Reaper returns to Washington, D.C., for a final showdown with Hotch, the BAU works frantically to catch him before he reaches his family.
"The Slave of Duty"
December 9, 2009
Rick Dunkle
Charles Haid
10
101
While Hotch takes a leave of absence to contemplate his future with the BAU, the team is called to investigate a case of two home invasions in Nashville without him.
"Retaliation"
December 16, 2009
Erica Messer
Félix Enríquez Alcalá
11
102
After an apprehended abductor and killer makes a daring escape from the BAU's custody and continues killing in Lockport, New York, the team must profile the criminal's past in order to catch him again.
"The Uncanny Valley"
January 13, 2010
Breen Frazier
Anna Foerster
12
103
The BAU is called to Atlantic City to profile a suspect with an unusual personal obsession who is abducting certain types of women.
"Risky Business"
January 20, 2010
Jim Clemente
Rob Spera
13
104
The BAU is called to assist local authorities in rural Wyoming when four teenagers are found dead from apparent suicides that are linked to a game on the Internet.
"Parasite"
February 3, 2010
Oanh Ly
Charles S. Carroll
14
105
An FBI agent from the San Diego White Collar Crime Division seeks assistance from the BAU when the con artist he has been tracking for years starts to murder his victims.
"Public Enemy"
February 10, 2010
Jess Prosser
Nelson McCormick
15
106
The BAU is summoned to Rhode Island to investigate a spree killer in Providence who is murdering random victims in highly visible places just to generate public fear.
"Mosley Lane"
March 3, 2010
Erica Messer and Simon Mirren
Matthew Gray Gubler
16
107
The BAU is called by local authorities in Ashburn, Virginia, to profile a predator who may have been abducting children for at least eight years.
"Solitary Man"
March 10, 2010
Ryan Gibson and Kimberly Ann Harrison
Rob Hardy
17
108
The BAU travels to New Mexico to investigate a truck driver in Edgewood who is abducting women and disposing of them in random locations as part of a mission to find a mother for his daughter.
"The Fight"
April 7, 2010
Chris Mundy and Edward Allen Bernero
Richard Shepard
18
109
The BAU investigates the murders of several homeless men in San Francisco and coordinate their efforts with another team of BAU agents who are working on a series of murders of father-daughter duos that appears to be connected.
"A Rite of Passage"
April 14, 2010
Victor De Jesus
John Gallagher
19
110
The BAU heads to Texas to track a serial killer who is targeting illegal immigrants trying to cross the U.S. border at Terlingua.
"...A Thousand Words"
May 5, 2010
Edward Allen Bernero
Rosemary Rodriguez
20
111
The BAU travels to Tallahassee to profile a tattooed serial killer after he commits suicide, but left clues to the location of one remaining victim who is possibly still alive.
"Exit Wounds"
May 12, 2010
Rick Dunkle
Charles S. Carroll
21
112
Garcia plays a crucial role in the case when she travels to Alaska with the BAU to investigate the murders of several residents of a small town.
"The Internet Is Forever"
May 19, 2010
Breen Frazier
Glenn Kershaw
22
113
When several women disappear in Boise, the BAU must profile a serial killer who is using the Internet to find his victims on social networking sites.
"Our Darkest Hour"
May 26, 2010
Erica Messer
Edward Allen Bernero
23
114
The BAU is called to Los Angeles when a serial killer is lured out of hiding after a series of rolling blackouts gives him the perfect opportunity to pursue his victims in the darkness.
Highlights
Season Five delves deeper into the personal lives of the BAU team and also brings back some of the show's notable characters and one of its most feared killers. Hotch takes a brief leave of absence, and Rossi investigates a case in his hometown. Some of the more gruesome crimes involve a killer who keeps the eyes of his victims as souvenirs and a performer suspected of murder, and in the show's 100th episode, the Reaper returns as the team race to help Hotch save his family before its too late. Haley makes her final appearance in this episode. Criminal Minds: Suspect Behavior, the show's first spin-off, was addressed in the episode "The Fight".
Opening Credits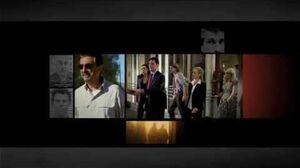 DVD Special Features
Fear the Reaper

Blam! Fade to Black.
There's No "Bo" in Team
+* Last Call
Community content is available under
CC-BY-SA
unless otherwise noted.