Spider-Man: No Way Home Trailer Dropped - The Loop
Play Sound
"
[An] impulse jumped into my head, and I went out and kidnapped a boy. It was just an urge to do it, to take him, have him. I don't know if it was sex or what.
"

— Bailey
Ronald Lloyd Bailey is an American pedophilic killer and serial rapist. On August 31, 1985, he kidnapped, molested, and murdered 13-year-old Shawn Moore in Gladwin County, Michigan. Bailey was arrested fifteen days later, and eventually sentenced to life imprisonment for his crime. He was later sentenced to more when he was found guilty of murdering another boy in July 1984.
Background and First Crimes
Bailey was born in Detroit, Michigan, on February 21, 1959. He never got along with his parents. His father, Alfred, was a strict and distant man, while his mother was a domineering, punitive woman who always warned him against girls. According to himself, he was sexually molested by an older man in his youth, and according to trial testimonies, he had his first "homosexual relationship" in third grade. In 1972, at thirteen, he was admitted to Hawthorne Center, a psychiatric hospital, for kidnapping and molesting a young boy while the latter was riding his bike in Farmington. In September 1973, he abducted a 15-year-old off of his bike, tied him up, and sexually assaulted him at knifepoint. On June 12, 1974, he kidnapped and molested at knifepoint a 12-year-old, and was again confined to Hawthorne Center. There, he behaved like a model patient and enjoyed a heterosexual affair with a nurse who was ten years older than him. In May 1975, at sixteen, he kidnapped a 10-year-old, drugged him, and almost choked him to death. Bailey pleaded guilty to this crime and was sent to a Wayne County reform school, were competent authority again committed him to Hawthorne. After he was caught fondling another patient, he escaped, only to be recaptured and finally admitted to the Northville Regional psychiatric hospital. He kept shuttling between reform school and the hospital for the next three years. Despite his turbulent life, Ron managed to graduate from high school.
In 1977, José Tombo, the psychiatrist who was treating Bailey, reported "excellent progress". When Tombo caught him in the act of taking drugs and sexually approaching another patient, he declared it was a "normal growth pattern", and recommended that he be released and remanded to community service for five years, while continuing his therapy. Bailey went to live with a friend in Florida, from February 1980 to May 1983, working as a tire shop employee. Throughout that period, he would later admit, he approached, abducted, and non-fatally throttled several boys between the ages of 14 and 16, near Hernando and Daytona Beach. Most of his victims shared one peculiar characteristic: they were all similar to Ron when the latter was younger. After an arrest for demanding oral sex to a minor, Bailey returned to Michigan. There, he found work at the ARA Systems Coffee Service. in June 1984, he was charged with the abduction and sexual assault of a 15-year-old Redford Township boy. It would later turn out that he had abducted and molested several other young boys in the area. On July 16 of the same year, he kidnapped, drugged, and murdered 14-year-old Kenneth Myers in Wayne County (but he wouldn't be linked to this crime until his arrest in September 1985).
Murder of Shawn Moore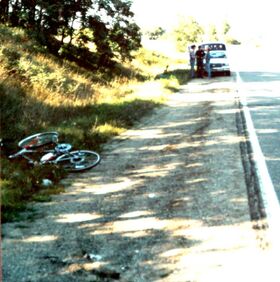 On August 31, 1985, Bailey asked a young male acquaintance to go fishing with him over the weekend, but his friend's mother prohibited him to go, which frustrated Ron. When all the other people he asked, including his "girlfriend" at the time, also refused, he took his Jeep Renegade and began running circles. Sometimes he stopped to pay visits to some friends and crash some parties, all the while drinking beers and smoking marijuana. At some point, he stopped at a Brighton convenience store to buy cigarettes, where he noticed 13-year-old Shawn Moore while the latter was drinking a soda near his bicycle. A while later, at the wheel, he again saw Shawn, who was biking, and decided to approach him, since he reminded him of himself. At first, he feigned asking for directions, then he forced him to get into his car, threatening him with a knife he had actually left in his jeep. Bailey took Shawn to a cabin in Gladwin County, which belonged to his girlfriend's family. There, he spent the day drinking and consuming drugs, which he offered to his captive. He cooked dinner and slept with Shawn, but waited till next afternoon to rape him. He throttled Shawn twice with a leather belt, the second of which was fatal. Next day, after he had fallen asleep near Shawn's body, he realized what he had done, panicked, and disposed of the corpse in the nearby woods, covering it with foliage.
Investigation and Arrest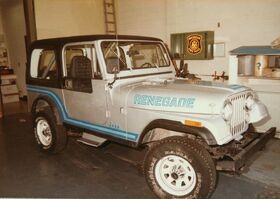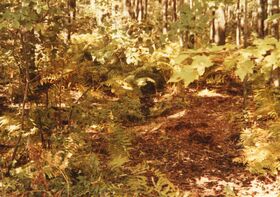 Unbeknownst to Bailey, the abduction was seen by a witness who immediately reported it to local authorities. Shortly thereafter, the Michigan State Police released a composite of the man seen with Shawn and a photograph of a vehicle similar to his. Nonetheless, investigators had not yet dismissed Shawn's parents as potential culprits, due to the latters seemingly odd reactions. On September 3, a command post was established at a Brighton warehouse, and a reward fund was started. Also, since kidnappings fell under federal jurisdictions, the FBI was soon involved, and John Douglas was asked to draft a profile. Authorities finally narrowed their list of suspects down to Ron, when they received five separate tips about him. One was from his co-workers at ARA Systems Coffee Service, who had seen him meticulously cleaning his jeep two days after the kidnapping. Another was from a police officer who shed light upon Bailey's criminal history. Ron was briefly questioned, but since he seemed to have an alibi for August 31 (he was fishing with his friend), and his past as a sex offender was not yet known at the time, he was let go. Days later, after the tip from the officer, he was again interviewed. Unfortunately, witnesses failed to pick him up from a line-up, and he was again released. This time, however, he was put under surveillance, and he was tailed as he boarded an airplane headed to Orlando, Florida. Two days later, on September 13, Shawn's badly decomposed body was found near the Gladwin County cabin, which was being searched by the authorities. At that point, an arrest warrant was issued, and Bailey was eventually captured in Florida without resistance, a day later. He was living inside an unfurnished shack, and was covered with insect bites. In custody, Bailey confessed to Kenny Myers' murder once it was finally connected to him.
Trial and Incarceration
At his trial, Bailey pleaded insanity, and claimed his crimes were due to molestation he suffered at the hands of his therapist, José Tombo (which vehemently denied the allegations). Despite this, on October 1, 1986, he was found guilty of first-degree murder and kidnapping, and sentenced to life imprisonment plus 65-100 years. On December 4 of the same year, he was sentenced to other 60-90 years for the murder of Kenny Myers. While incarcerated, he was repeatedly threatened by the other inmates due to the nature of his crimes.
Modus Operandi
Bailey would scout for lone young boys between the ages of 12 and 16 (he displayed a tendency to choose ones that were riding bicycles and were similar to him in his youth), abduct them, usually by force, and bring them to a secluded location where he either raped, throttled them (non-fatally or fatally) with a ligature (an elastic band or leather belt), or both. In some instances, he made his victims consume drugs and/or alcohol.
Profile
Shawn Moore's abductor was profiled as being a white male between the ages of 20 and 25 who was an inadequate individual with low self-esteem. He drove a "tough-guy" vehicle, and practiced hunting and fishing as a means to hide his true nature as a pedophile. Even if he had a girlfriend, it would just have been a facade relationship. He was unsatisfied, possibly even intimidated by heterosexual intercourses with people of his own age. He felt comfortable having sex only with younger males he kept close to himself through presents and/or money. The choice of a 13-year-old seem to suggest a weak guy, since pre-teens are easier to frighten and control. He had a blue-collar job which did not require him to have any responsibilities, and possibly had a high school degree. If he had in fact enlisted in the Army, he would have been dishonorably discharged. He knew the area near the abduction spot, and was probably under the effect of drugs or alcohol during the kidnapping, due to the recklessness of it. The nonetheless efficiency of the abduction is also indicative of past experience, and he would have a criminal record including sexual offenses and similar kidnappings for which he was sentenced to prison and/or committed to a psychiatric hospital. He brought his victim to a secluded spot, possibly a cabin in the woods, since he most likely lived with his parents or an older female relative with whom he didn't get along. Usually, if the abductor does not release his victim within two days, it is unlikely that he would ever do it. If this be the case, he would dispose of the body by the side of the road or in the woods, near the place where the boy was kept. The kidnapping had been sparked by a stressor in the life of the offender which, as the incident occurred by the weekend, had likely to do with personal relationship. He was a frustrated loner who was depressed during the holidays. He was looking for someone to vent his rage about a person who rejected him, and he eventually found Shawn.
Known Victims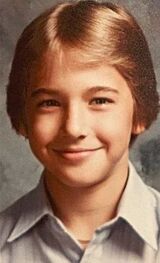 Dates and locations refer to when and where the non-fatal victims were abducted and when and where the fatal victims were killed. With the exception of the Florida crimes, all the following occurred in Michigan (most in Oakland, Wayne, and Gladwin County).
1972: Five Mile Road, Farmington: An unnamed 12-year-old boy (abducted and fondled only)
Unspecified date and location in September 1973: An unnamed 15-year-old boy (abducted, tied up, and raped at knifepoint; survived)
Unspecified location on June 12, 1974: An unnamed 12-year-old boy (abducted and molested at knifepoint; survived)
Unspecified date and location in May 1975: An unnamed ten-year-old boy (abducted, drugged, and almost choked to death; survived)
Unspecified dates from February 1980 to May 1983: Unspecified locations around Hernando and Daytona Beach, Florida: An unspecified number of young boys aged 14-16 (were all either molested or non-fatally choked with a leather belt or elastic band; all survived)
Unspecified date and location in Florida: An unnamed boy (approached and demanded oral sex)
1984:

Unpecified dates and locations in the Detroit area: An unspecified number of young boys (all molested only)
Unspecified date in June: Redford Township: An unnamed 15-year-old boy (abducted and raped; survived)
July 16: Ferndale: Kenneth Myers, 14 (abducted, drugged, and choked to death with a leather belt)

September 1, 1985: Gladwin County: Shawn Moore, 13 (abducted, drugged, raped, and choked to death with a leather belt)
On Criminal Minds
Season One

"What Fresh Hell?" - While Bailey was never directly referenced in the show, he seems to have been an inspiration for the episode's unsub, Donald Curtis - Both were pedophilic and hebephilic abductors who kidnapped a child in broad daylight from a park, brought their respective victims to their homes, were seen by a witness during the abduction who was able to describe the vehicle they were driving, their crimes were investigated by the FBI, and they were eventually arrested following tips from the public.
Sources