"
The best time is at night, nighttime. [Morning and afternoon] are okay, but nighttime is when it really gets good. Then you are really ready.
"

— Alcala at The Dating Game
Rodney James Alcala (born Rodrigo Jacques Alcala Buquor), a.k.a. "The Dating Game Killer", is a convicted serial killer and rapist currently on trial for additional murders.
Background
Alcala was born Rodrigo Jacques Alcala Buquor in Texas in 1943. His father, Raoul Alcala Buquor, abandoned the family when he was young. When he was 12, he, his mother Anna Maria Gutierrez, and his sisters, Christine and Marie, moved to suburban Los Angeles. At the age of 17, he enlisted in the U.S. Army and served four years as a clerk. After he suffered a nervous breakdown, he was medically discharged when the military psychiatrist diagnosed him with antisocial personality disorder. In 1968, he graduated from the UCLA School of Fine Arts with a Bachelor of Fine Arts degree and later studied film under Roman Polanski (whose wife would later become a victim of the Manson Family) at New York University under the name "John Berger". In the summer, he worked as a counselor at a drama camp for children in New Hampshire.
Crimes, Capture, and Incarceration
Alcala's first known victim was an eight-year-old girl named Tali Shapiro, whom he abducted as she was on her way to school. After he lured her into his car, a witness followed him back to his apartment on De Longpre Avenue and called the police. By the time they arrived, Alcala had struck Shapiro with a steel rod and raped her. When they knocked on the door, he escaped out the back and evaded arrest. He was placed on the FBI's Top Ten Most Wanted list. Though badly injured, Shapiro survived. He fled to the East Coast and enrolled in NYU. In 1971, Alcala is believed to have raped and strangled Cornelia Crilley, a Trans World Airlines flight attendant, in her Manhattan apartment.
The same year, two children at the camp saw the FBI's Wanted poster and told the camp's staff about it. They reported Alcala to the authorities, leading to him being extradited to California. Because Shapiro's family had moved to Mexico and wouldn't let their daughter testify, Alcala got off with a guilty plead for a lesser assault charge. He received indeterminate sentencing, which meant he would be released from incarceration when he proved himself rehabilitated (the system was popular in the 1970s when sex offenders were convicted). After 34 months, in 1974, he was released and kidnapped a 13-year-old girl named as "Julie J." in court records, forced her to smoke marijuana and kissed her. In spite of what he had done, he was only found guilty of giving marijuana to a minor and violating his parole and was released after two more years of indeterminate sentencing.
In 1977, Alcala got permission from his parole officer to visit relatives in New York City. Shortly after arriving (coincidentally during the time that
Son of Sam
was active), he is believed to have killed Ellen Jane Hover, a 23-year-old socialite. Her datebook showed that she had a meeting with one "John Berger", Alcala's alias, on the date of her disappearance. Upon returning to L.A., Alcala got a job as a typesetter for the
Los Angeles Times
. When the FBI connected him to his old alias, they questioned him. He confessed to knowing Hover, but denied committing the murder. Since her body hadn't yet been found, he was let go. He was also questioned as a convicted sex offender in connection with the
Hillside Strangler
investigation. In 1978, in spite of his criminal record, Alcala was admitted as "Bachelor No. 1" to
The Dating Game
. The host introduced him as a successful professional photographer. Though Alcala won the contest, the female contestant wouldn't go on a date with him because she thought he was "creepy". Criminal profiler Pat Brown later suggested that this rejection angered Alcala further since he afterwards killed at least three more women within two years. His last known victim was 12-year-old Robin Samsoe, who was abducted on her way to ballet class in 1979 in Huntington Beach and her decomposing body found in the Sierra Madres twelve days later.
Earlier on the day of Samsoe's disappearance, Alcala had been seen trying to get her and one of her friends to get into swimsuits so he could take pictures of them, but was chased away by a neighbor. The previous day, he had tried to convince two teenage girls to do so by offering them marijuana. A Los Angeles National Forest ranger later testified that a man matching Alcala's description and driving the same make and model of car as him leading a girl down a stream on June 20. On July 24, he was arrested for Samsoe's murder. When the investigators searched Alcala's mother's house, they found a receipt for a storage locker in Seattle which turned out to contain hundreds of photos, mostly of young girls.
In many of the photos, the subjects are nude or dressed in swimwear. Alcala himself is present in a few. The locker also contained a pair of earrings which had belonged to Samsoe and another pair that was later found to have the DNA of Charlotte Lamb, a 31-year-old woman killed in her apartment building's laundry room in El Segundo in 1978, on them. Alcala went on trial for Samsoe's murder and was found guilty and sentenced to death in 1980. The sentence was overturned twice, first in 1984 because the jury was told about his previous convictions before the trial and then again in 1986 on the grounds that a witness had been hypnotized. While in prison, he published a book titled You, The Jury, in which he denied killing Samsoe and posited another suspect. He also tried to sue the California penal system twice; once for a slip-and-fall accident and once because the prison hadn't given him a low-fat diet.
In 2003, while a third trial of Alcala was being planned, his DNA, which had been sampled during his time in prison, connected him to two other victims. In 2010, Alcala was tried for a total of five murders: Samsoe, Jill Barcomb, Georgia Wixted, Charlotte Lamb, and Jill Parenteau. He was found guilty on all counts and is currently on death row in San Quentin State Prison. In 2011, he was indicted for the New York murders of Cornelia Crilley and Ellen Hover and may be extradited to the state in the future. In December of 2012, he plead guilty to both murders. On January 7 the following year, he was given another life sentence. He is also believed by investigators to be responsible for the 1977 murder of 19-year-old Pamela Jean Lambson in San Francisco, but isn't charged with it since there are no fingerprints or DNA evidence that implicates him.
120 of the photos found in Alcala's locker have been publicly released with the hopes that the subjects will come forward and identify themselves. Approximately 900 other sexually-explicit photos still haven't been released, including many photos in which the women are nude, but which have been censored. Approximately 21 women have come forward and identified themselves, and six families have claimed that a photo contains a long-lost family member. One theory is that some people in the photos are unknown victims of Alcala. In September 2016, Alcala was charged with the murder of Christine Ruth Thornton, whose body was found in Wyoming in 1982, five years after her disappearance. She was linked to him when one of her relatives recognized her from one of his photos.
Modus Operandi
Alcala's known victims were women aged 8-31. Not many details about exactly how he approached his victims are publicly known, but they were often attacked in their residences and usually raped and strangled with pant legs, stockings or shoelaces or beaten with a blunt object. Alcala had a notable habit of torturing his victims by first strangling them to the point of unconsciousness. Then, he resuscitated them at least once before finishing them off. Police believe the victims were posed "in carefully selected positions" post-mortem. He apparently took the earrings of his victims as trophies.
Known Victims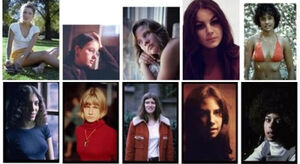 Confirmed
September 25, 1968, Los Angeles, California: Tali Shapiro, 8 (attempted; raped, bludgeoned, and strangled with a steel rod)
June 12, 1971, New York City, New York: Cornelia Crilley, 23 (raped and strangled with her own nylon stockings)
Unspecified date in 1974, Los Angeles, California: "J. Julie", 13 (full name unknown; molested, but not killed)
1977:

July 15 (last seen), New York City, New York: Ellen Hover, 23
November 9, Los Angeles, California: Jill Barcomb, 18 (raped, sodomized, repeatedly bit her right breast, strangled three times with a belt and pair of slacks, and killed with a rock; posed in a knee to chest position)
December 16 (found), Malibu, California: Georgia Wixted, 27 (raped, sodomized, tortured, strangled with her nylon stockings, fatally bludgeoned with a hammer, and her genitals mutilated post-mortem)

June 24, 1978 (found), El Segundo, California: Charlotte Lamb, 31 (raped, beaten, and strangled with a shoelace; posed her body face-up with her hands behind her back)
1979:

February, Riverside County, California: "Monique H.", 15 (abducted, raped, and beaten; was left alive)
June 14 (found), Burbank, California: Jill Parenteau, 21 (raped, beaten, and strangled with a cord or a stocking)
June 20, Huntington Beach, California: Robin Samsoe, 12 (beaten, raped, and stabbed with a knife)
Possible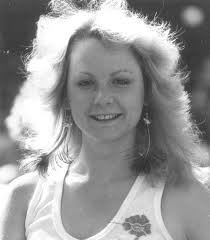 Murders for which Alcala is currently suspected of and/or on trial for
Unspecified date in 1976, Waterville, Washington: Cherry Greenman, 19
1977:

Unspecified dates:

Seattle, Washington:

Antionette "Tony" Witaker, 13 (stabbed)
Joyce Gaunt, 17 (beaten, strangled and sexually assaulted)

Sweetwater County, Wyoming: Christine Ruth Thorton, 28 (killed by unknown causes; was pregnant at the time of her death; found in 1982)

October 8, San Francisco, California: Pamela Jean Lambson, 19

Note: Alcala is also suspected of as many as a total of 130 murders based on photos found in his possession.
Notes
Alcala has been compared to Ted Bundy and has several similarities to him:

Both targeted women, occasionally children
Both are believed to have killed in multiple states (in Alcala's case, he hasn't yet been found guilty of the murders he committed outside of California)
Both killed their victims either by strangling them or with blunt force
For both, the last known victim was a 12-year-old girl
On Criminal Minds
Alcala was mentioned by Reid in Epilogue when it is discovered that the unsub, a serial drowner, has a habit of resuscitating his victims, not unlike the way Alcala would revive his victims after strangling them to the point of unconsciousness and then revive them to torture them.
Alcala also bears some resemblance to Andrew Meeks, the unsub of A Badge and a Gun. Both were antisocial killers who targeted random women, were active in California (though Alcala was also active in New York), killed their victims in their residences by asphyxiating them with incidental objects, attempted to kill someone prior to their serial killings, and were convicted for criminal offenses prior to their killings.
Sources