We're Getting Mutants in the MCU - The Loop
Play Sound
"
I'm a working guy, that's all I am.
"

— Pickton
Robert William "Willie" Pickton, a.k.a. "The Pig Farmer Killer", is a (possibly prolific) Canadian serial killer currently on trial for six counts of murder and is suspected for at least 26 others.
Background
Not a lot of details about Pickton's life prior to him becoming a serial killer are currently publicly known due to Canadian publicity laws regarding ongoing criminal investigations. What is known is that he was born in 1949 in Port Coquitlam, British Columbia. His family has been pig farmers for three generations, but by the time of his arrest, Pickton had largely given up using the farm for actual farming and only raised a few pigs to sell to friends and neighbors. He and his two siblings, David Francis Pickton and Linda Louise Wright, inherited the family pig farm, where Robert later committed his murders. In 1994 and 1995, they sold parts of their inherited land, earning a total of $5.16 million. In 1997, Robert was charged with the attempted murder of a prostitute named Wendy Lynn Eistetter, having tried to stab her, but the case was dropped because prosecutors felt that the victim, who was a drug addict, was too unstable to give an accurate testimony, even though both the victim and Pickton, who suffered a stab injury during the encounter, were treated at the same hospital and a key to the set of handcuffs on Eistetter's wrist was found in Pickton's pocket. David, on the other hand, has a criminal record for a sexual assault in 1988 and has also been sued on three occasions for various traffic offenses.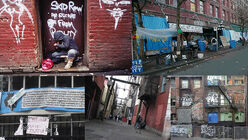 Though Robert was locally considered a quiet man, he and his siblings often hosted wild parties at a converted building near the pig farm called "The Piggy Palace". In 1996, they also founded a non-profit charity organization called the "Piggy Palace Good Times Society", the function of which was listed as to "organize, coordinate, manage and operate special events, functions, dances, shows and exhibitions on behalf of service organizations, sports organizations and other worthy groups". This came to an end after a New Year's Eve party on December 31, 1998, when the Pickton siblings were sued for violating zoning laws and legally forbidden from holding any more parties. The "Piggy Palace Good Times Society" was disbanded soon afterwards in January 2000 for failing to provide mandatory financial statements. Robert and David were also the proprietors of P&B Salvage near Vancouver. In 1999, Canadian police received a tip that Robert kept human flesh in freezers on his property. Though a warrant was secured, no search was carried out.
Arrest and Convictions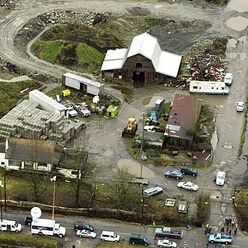 On February 5, 2002, Pickton was arrested when police, acting on a warrant for firearm violations, found personal belongings of a missing woman on the farm. A second court order was obtained to continue searching the farm as part of the BC Missing Women Investigation, which investigates the disappearances of women, many from Vancouver's Downtown Eastside, dating back to September of 1978, that of Lillian Jean O'Dare (Pickton would have been 28 years old at the time). Also known as the "Low Track", it is the poorest neighborhood in all of Canada and is riddled with drug trafficking and prostitution. It also has the highest rate of HIV infection in North America. The woman whose possessions were found on the farm is one of the women whose disappearance was investigated by the task force, which is headed by officers of the Royal Canadian Mounted Police (RCMP) and the Vancouver Police Department.
As they searched the grounds, they found remains of some victims, such as skulls cut in half and stuffed with human hands and feet, DNA from 33 women, bloody clothing belonging to a victim, and a jawbone and teeth belonging to one victim. They also found a .22 revolver with a dildo attached to its barrel, .357 Magnum rounds, two pairs of faux fur-lined handcuffs, a pair of night-vision goggles, and photos of a garbage can containing the remains of a victim. Pickton claimed that the dildo, which had the DNA of both him and a victim on it, had been meant to function as a makeshift suppressor. The gun also contained a spent cartridge. While in custody, Pickton told an undercover officer posing as a fellow inmate that he had wanted to kill one more in order to bring his victim count up to an even 50, suggesting that he is responsible for 49 murders. A video recording of the statement was later used as evidence in his trial, which began on January 30, 2006.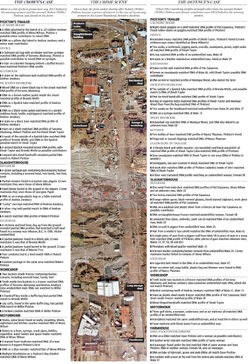 Pickton pleaded not guilty to 27 charges of first-degree murder, one of which was later rejected on the grounds of a lack of evidence. Because of the publication ban, not all the details are publicly known about the proceedings. The 26 charges were split so six of them, those of Marnie Lee Frey, Georgina Faith Papin, Brenda Ann Wolfe, Andrea Joesbury, Sereena Abostway and Mona Lee Wilson, were processed first; according to the presiding judge, it was because all 26 charges would put too much strain on the jury and because the evidence in those six counts was "materially different" from the other 20. On December 6, 2007, a jury found Pickton guilty of the six murders, which were reduced from first-degree to second-degree. He was sentenced to life imprisonment, which in Canada entails a possibility of parole in 25 years and is the highest possible punishment for second-degree murder, essentially earning Pickton the same punishment that he would have received for a first-degree conviction.
On August 4, 2010, the other 20 charges were stayed. Three appeals have been filed since to the British Columbia Court of Appeal. The first one made by the defense was rejected and the one made by the prosecution was allowed on the grounds that the trial judge had made a mistake in excluding some evidence and in splitting the charges. Pickton's defense then filed an appeal with the Canadian Supreme Court, which was rejected on July 30, 2009. He is currently incarcerated. A spokesman for the Crown stated that the other 20 charges are likely to be discontinued. The RCMP and Vancouver police have suffered some criticism for their way of handling the case, such as the two agencies withholding information from each other. The RCMP have been called arrogant in Canadian media and said not to work well in tandem with other investigative agencies, as exemplified during their "turf war" with the Canadian Security Intelligence Service during the investigation of the 1985 Air India bombing. The Vancouver police has also been criticized for not taking action sooner and not taking the disappearances of so many women seriously.
Modus Operandi
Because the Pickton case is still under investigation, exactly how he killed his victims is not entirely known to the public, as is anything he might have done to them before killing them. According to a witness on tape, Pickton had claimed that he brought his victims, who were prostitutes, to the farm, handcuffed them, raped them, killed them by strangling them, bled and gutted them, ran them through a wood-chipper and then fed their remains to his pigs. Another claim is that the victims were ground, the resulting mince mixed with the pork mince from the farm and the packages given to Pickton's friends and family. It was stated in a Biography Channel documentary about the case that Pickton would lure his victims to his farm using a simple ruse, such as pretending to buy sexual favors. During sex, he would become violent and accuse the victims of something, such as stealing from him, in order to build up his rage. He would then restrain them, kill them by strangling or shooting them, and then butcher their bodies.
Known Victims
"I was gonna do one more, make it an even 50. That's why I was sloppy, I wanted one more. Make... make the big five-O."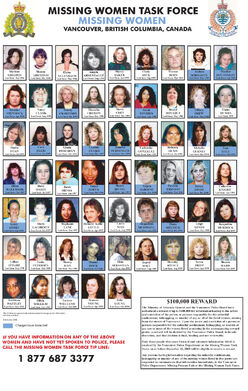 Note: The below dates denote when the victims were last seen.
Confirmed
Murders for which Pickton has been found guilty.
August 30, 1997: Marnie Lee Frey
1999:

March 1: Georgina Faith Papin, 34
February: Brenda Ann Wolfe, 32

2001:

June 5: Andrea Joesbury, 23
August 1: Sereena Abostway, 29
November 23: Mona Lee Wilson, 26
Suspected
Disappearances/murders which Pickton is currently on trial for or implicated in.
August 1991: Mary Ann Clark, 25
December 1995: Diana Melnick, 20
1996:

January: Cara Louise Ellis, 25
October: Tanya Holyk, 23

1997:

March: Andrea Fay Borhaven, 25
April: Sherry Irving, 24
August: Helen Mae Hallmark, 32
December: Cynthia Feliks, 41-42

1998:

January 2: Kerry Koski, 38
February 26: Inga Monique Hall, 46
April 13: Sarah Jean de Vries, 38
November 20: Angela Rebecca Jardine, 27

1999:

January 21: Michelle McDonell, 23
December: Wendy Crawford, 43
December 21: Jennifer Lynn Furminger
December 31: Tiffany Drew, 28

2000:

November 1: Dawn Teresa Crey, 42
December 21: Debra Lynne Jones, 43

2001:

March: Patricia Rose Johnson, 24
March 16: Yvonne Marie Boen, 34
April: Heather Chinnock, 30
April 17: Heather Kathleen Bottomley, 25
October 19: Dianne Rosemary Rock, 34

Unspecified dates: Two unidentified victims
Unspecified date: An unidentified victim
Notes
Pickton is not the only serial killer known to have disposed of his victims by feeding them to other humans and animals. Joe Ball, also known as The Alligator Man, is believed to have fed the remains of his victims to five alligators he kept on his property. While in Africa, travelling serial killer Carl Panzram shot a group of six men in a boat and then threw their bodies to wild crocodiles. Richard Kuklinski also claimed to have fed several still-living victims to wild rats. A German serial killer, Fritz Haarmann, also known as The Butcher of Hanover, would cut his victims' bodies into strips of flesh and sell them as pork. According to some claims, Pickton ground the bodies of his victims into mince and sold the packages.
The Pickton case is not the only serial killer case involving missing women in British Columbia, Canada. British Columbia Highway 16, a.k.a. The Highway of Tears, has been the site of a number of murders and disappearances of young women, possibly dating back to as early as 1969. The exact number of potential victims is unknown, but may be as high as 43. And while foul play has never been conclusively proven, the so-called "Salish Sea human foot discoveries" are thought by some to be the work of one or more offenders.
On Criminal Minds
While Pickton was never directly mentioned or referenced on the show, he appears to have been an inspiration for the following unsubs:
Season Three

Floyd Feylinn Ferell ("Lucky" and "Lucky Strikes") - Both are serial killers and projected cannibals (possibly in Pickton's case) who owned a business where they killed their victims, targeted prostitutes, and dismembered them post-mortem, before serving their remains as food (possibly in Pickton's case). Ferell also appears in Season Thirteen.

Season Four

The Turner Brothers ("To Hell..." and "And Back") - The Turner Brothers' case was apparently hugely inspired by Pickton and his accomplices - Both Lucas and Pickton were prolific (possibly in Pickton's case) serial killers and (presumably in Pickton's case) abductors who had brothers, were active in Canada, worked as pig farmers, targeted the 'unwanted'/high-risk victims like drug addicts and prostitutes in poor neighborhoods, fed them to pigs after killing them (possibly in Pickton's case), and both went undiscovered for years due to poor Canadian investigations at the time of their crimes.

Season Nine

Wallace Hines ("The Inspiration" and "The Inspired") - Both are serial killers, serial rapists, (possibly in Pickton's case) abductors and projected cannibals who mainly targeted women (though Hines also killed men), had brothers, dismembered their victims post-mortem and (possibly in Pickton's case) fed their remains to people at the businesses they worked at.
Sources
Wikipedia:
Missing People:
YouTube: