Doctor Strange in The Multiverse o Madness - The Loop
Play Sound
"
What are they gonna do to me? What are they gonna do to me that they haven't done already? They took away my entire past. They took away my entire future. What's left for 'em to take? They gonna take my testicles and make earrings out of them?
"

— Blake
Robert Blake (born Michael James Vincenzo Gubitosi) is an American famed actor who, in March 2005, was acquitted of the May 2001 murder of his wife, Bonny Lee Bakley. Later, in November of the same year, he was found liable for her wrongful death, and condemned to pay millions of dollars in damages to Bonny's children.
Background
Child Acting Career
Blake was born Michael Gubitosi in Nutley, New Jersey, in 1933. He was the youngest of three children of Giacomo "James" Gubitosi, an Italian immigrant, and Elizabeth Cafone, an Italian-American born in New Jersey. His parents had tried to abort him, since he was the result of an affair between his mother and his uncle, Tony, who was thus his biological father. After working for a while as a die-setter in a factory, Giacomo began performing with his wife as a song-and-dance team, later billing Michael and his stepsiblings as "The Three Little Hillbillies". By his own account, Blake had a troubled childhood marked by physical, emotional, and even sexual abuse at the hands of his parents. He described his alcoholic father as a "sadistic maniac", and both of his parents a "committably insane".
In 1938, two years after the three siblings began performing alongside their parents, the Gubitones relocated to Los Angeles, California, where all three children worked as movie extras. Michael, billed as "Mickey", was the most successful of the trio. From 1939 to 1944, he starred as "Little Mickey" (then "Mickey Blake") in MGM's Our Gang (also known as The Little Rascals) popular comedy features. In 1942, Mickey first adopted the stage name "Bobby Blake". At ten years of age, he entered public school, where he was bullied and engaged in fights with other students, which led to his expulsion. Blake eventually left MGM as the result of a fight between his stepfather and the head of the studios. In the following years, he appeared, among others, in a Laurel and Hardy film and in The Treasure of the Sierra Madre, establishing himself as a Hollywood child star. His mentor at the time was actor John Garfield. At 14, he ran away from home.
Adult Acting Career and First Marriage
In 1950, Blake joined the Army and served in Alaska, where he fell in love for the first time and threatened her girlfriend's father with death when the latter opposed their relationship. Back in civilian life, at 21, he fell into a deep depression after finding himself without any job prospects, at which point he began to consume and sell drugs. Eventually, he took acting classes from Jeff Corey and resumed his career on the screen. From 1952 to 1974, he did several motion pictures and television series episodes, frequently portraying Hispanic or Native American characters due to his complexion. Throughout these years, he harbored suicidal thoughts and sought help from psychiatrists. In 1956, the same year his stepfather committed suicide, he was billed as "Robert Blake" for the first time. In 1964, he married actress Sondra Kerr, with whom he fathered a son (Noah) and a daughter (Delinah). Blake referred to his first marriage as a disaster, marked by constant, terrible fights. Kerr would later describe him as an obsessively jealous husband, who would often threaten her with death. After their eventual divorce in 1983, she claimed he substantially scared her into granting him full custody over their children. In 1967 came his breakthrough role as mass murderer Perry Smith (to whom he bore a strong resemblance) in Richard Brooks' In Cold Blood, a movie adaptation of the famous Truman Capote novel of the same name. In 1974, he starred in Busting, alongside Elliott Gould.
From 1975 to 1978, he came back into the limelight starring as wise-cracking plain clothes police detective Tony Baretta in the Emmy Award-winning television series Baretta. Trademarks of the show included Baretta's pet cockatoo, "Fred", and his iconic catchphrases. Blake continued acting through the 80s and 90s, appearing in movies, such as David Lynch's Lost Highway (which was also his last acting role), and on television, such as in the 1985 series Hell Town. In 1993, he played another mass murderer, John List, in the made-for-television film Judgement Day: The John List Story. Blake's career was reportedly one of the longest in Hollywood history.
Second Marriage
In 1999, Blake, according to himself, had "no real life going on". He was living off the money he earned during his career, hanging out at bars where he had many one-night stands. One night, he met Bonny Lee Bakley at a jazz club and began dating her. Bakley was a career con artist with a criminal record, whose main con was a "lonely-hearts" scam, wherein she offered sex and nude photos of her in exchange for money. Bonny had countless alias, a history of exploiting older men for money, and was obsessed with celebrities, frequently claiming friendships and romantic affairs with famous men she actually never knew. Celebrities she pursued included: singer Jerry Lee Lewis (after meeting him, she claimed he was the father of her daughter, Jeri Lee. This was later disproved by a DNA test), Dean Martin, Frankie Valli, and actor Gary Busey. While she was dating Blake, Bakley was also entertaining a relationship with Marlon Brando's son, Christian, who had been released from prison in 1996, after serving a sentence for murdering the boyfriend of his half-sister. When she got pregnant for the fourth time, at first Bonny thought the child to be Christian's, and, when the baby girl finally came to light, in June 2000, she named her Christian Shannon Brando. A paternity test later revealed the toddler was actually Blake's daughter, at which point her name was legally changed to Rose Blake. Possibly in an attempt to extort money from him, Bonny recorded a phone call in which she tried to make it appear as if Robert was trying to sell his own daughter.
Blake, on his part, was determined to do what he thought was the best for his daughter. He agreed to marry Bakley, which he did on November 19, 2000 (it was Bonny's tenth marriage). As a condition for becoming her husband, Robert requested that she signed a temporary custody agreement in which she accepted, among other things, that if either spouse decided to end the marriage, the other would retain Rose's custody. Despite advice from her lawyer not to sign the agreement, she did it anyway. It was an unusual marriage, with Bonny and Rose living in a guesthouse behind Blake's home in Studio City, Los Angeles. Blake was distrustful of Bakley, to the point he hired a private eye to monitor her, through which he discovered she was continuing to operate his swindles. Despite being married, she kept seeking new relationships with celebrities.
Murder of Bonny Lee Bakley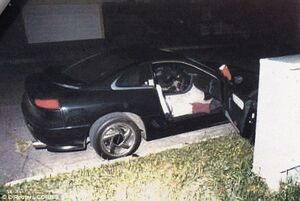 Six months after their marriage, on the evening of May 4, 2001, Blake and Bakley went out for dinner at Vitello's, a Studio City Italian restaurant and Robert's favorite. They left at 9:35 p.m., at which point Blake discovered he had left his licensed revolver at Vitello's. While Bonny went on to Blake's car, which was a Dodge Stealth parked in a dark street around the corner from the restaurant, the latter turned back to retrieve his gun. Returning moments later, he found Bonny bleeding from two gunshots wounds to her right cheek and shoulder. After trying to revive her, he enlisted the help of a friend, filmmaker Sean Stanek, who lived nearby. Stanek would later recall Blake weeping and vomiting. He also recalled the latter had his gun with him. Shortly thereafter, they rushed to Vitello's in search of medical aid. By the time the emergency services arrived on the scene, it was too late. Bonny was pronounced dead at a local hospital. She never regained consciousness.
Investigation and Arrest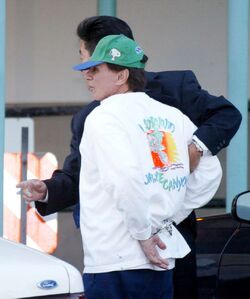 Due to Bakley's past, police detectives investigating the murder identified hundreds of potential suspects. The latters included Christian Brando, who was angry at her for lying to him about the baby even though she knew that the child was Blake's. Bonny herself once admitted having been involved in violent encounters with men she swindled. In the meantime, Blake refused to undertake a polygraph test, saying he was too upset. He also allegedly said he was afraid of failing the test because he dreamed of killing his wife and blamed himself for not protecting her, apparently referring to the O.J. Simpson murder case. It was indeed embarrassment for the handling of the O.J. investigation that prompted LAPD commanders to assign seventeen top detectives to the Bakley murder. On May 5, police searched Blake's home and questioned him again. Despite the officers' announcement that he was not a suspect, rumors of Blake's guilt began to circulate through the media, which prompted his attorney, Harland Braun, to counter act by leaking information on Bonny's past. Braun publicly referred to Bakley as an "evil" person with a lot of enemies.
What seemed to implicate Blake, leaving aside his marital problems, were inconsistencies in his recollection of the events on the night of the murder. While he claimed he returned to Vitello's to retrieve his revolver, the restaurant staff denied seeing him until after Bonny was shot. Moreover, they couldn't find the gun when they cleared Robert and Bonny's table. Nonetheless, when police finally obtained the revolver in question for analysis, it turned out it wasn't the murder weapon. Tests for gunshot residue performed by police on Blake's hands turned out negative. On May 7, a discarded Walther P38 semi-auto pistol, with the serial number filed off, was recovered in a trash bin near the crime scene. The WWII-era pistol, which was found coated in an oily substance, was later determined to be the murder weapon, but no fingerprints could be found on it. Shell casings didn't match the ones that were found in Blake's house, at which point rumors began to spread that he, or someone else, had hired a hitman to do the job on his behalf. On April 18, 2002, eleven months after the beginning of the investigation, the LAPD arrested Blake (who, according to author Miles Corwin, was the key suspect from the start) and charged him with the murder of his wife. They also arrested his longtime bodyguard, Earle Caldwell, on charges of conspiracy to commit murder (which was later dismissed during a pretrial hearing due to insufficient evidence). Police was prompted to make the arrests after two retired stuntmen, Ronald "Duffy" Hambleton and Gary McLarty, the latter of whom once worked with Blake at the Baretta television series, agreed to testify in court that he had attempted to hire them to kill his wife.
Trials
Criminal Trial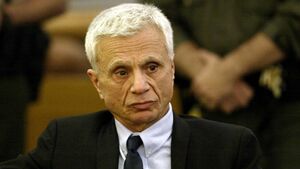 On April 22, Blake was charged with one count of murder with special circumstances (which carried the death penalty), two counts of solicitation of murder, and one count of conspiracy to commit murder (which was later dismissed during a pre-trial hearing due to insufficient evidence). Although both he and Caldwell were at first released on bail, Blake was eventually returned to jail on May 1, when his bond was revoked. On March 13, 2003, he was again granted bail and released on house arrests. While imprisoned, and despite objections from his lawyers (he replaced Harland Braun with Tom Mesereau because of this), he released an interview to journalist Barbara Walters. A few months before the criminal trial, Tom Mesereau decided to quit, citing a falling out with his client. He ended up representing Michael Jackson. Gerald Schwartzbach became Blake's third defense attorney.
On December 20, 2004, the trial began. The prosecution argued Blake had a motive for murdering Bakley: free himself of a marriage he didn't want, and raise is daughter all by himself. While Blake claimed he went back to Vitello's to retrieve his gun, no one remembered seeing him. Moreover, the fact that the car's passenger window had been found rolled down seemed to suggest Bonny was familiar with her assailant. On the other hand, the defense team claimed their client was the victim of circumstantial and fabricated evidence, and argued that due to the restaurant's architecture, it was entirely possible for him to enter Vitello's and retrieve his gun without ever being seen. They also cited absence of gunshot residue on their client's hands, to which the prosecution responded he had washed his hands somewhere. Hambleton and McLarty, the prosecution's key witnesses, were both cross-examined and their credibility was severely undermined when their history of drug abuse and petty crimes was uncovered. McLarty in particular had a mental health record, and could not remember important details of Blake's alleged attempt to hire him to kill his wife. It turned out Blake had indeed hired Hambleton, McLarty, and the latter's son, who testified in court, as protection from an unknown individual (nicknamed "Buzz Cut") whom Blake claimed he had seen lurking several times around his home.
On March 16, 2005, Blake was found not guilty of murder and not guilty of one of the two counts of solicitation of murder (the other one was dropped after it was revealed the jury was deadlocked 11-1 in favor of an acquittal). Los Angeles District Attorney Stephen Cooley referred to Blake as "a miserable human being" and deemed the jurors to be "incredibly stupid". Public opinion was divided, with some feeling Blake got away with murder while others felt there wasn't enough evidence to convict him.
Civil Trial and Aftermath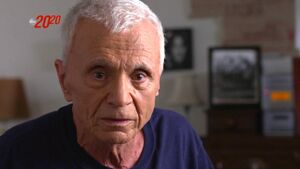 On April 29, 2002, lawyers for Bakley's four children had sued Blake and Caldwell for wrongful death, without claiming specific damages. When questioned by Eric Dubin, the attorney for Bakley's family, Caldwell refused to provide any answers, citing the Fifth Amendment's protection against self-incrimination. When asked whether she believed his boyfriend and Blake were involved in Bakley's murder, Caldwell's girlfriend burst into tears and admitted she thought they were involved. On November 18, 2005, Blake was found liable for his wife's wrongful death and was ordered to pay $30 million. Months later, Blake filed for bankruptcy, at which point he began working as a ranch hand while his oldest daughter adopted Rose, the child he had with Bonny. During the appeal, the defense presented testimonies (which were deemed inadmissible at criminal pre-trial hearings) to support their theory that Bonny Lee Bakley's murder was the result of a conspiracy between Christian Brando, "Duffy" Hambleton, and one Mark Jones (the alleged shooter, who committed suicide shortly after the murder). When called as a witness in the civil trial, Brando refused to testify and invoked the Fifth Amendement. On April 26, 2008, the appeals court upheld the first verdict, but reduced Blake's penalty to 15$ million.
Blake has maintained a low profile since his acquittal and filing for bankruptcy, with debts for unpaid legal fees as well as both federal and state taxes. In 2011, he wrote his autobiography, Tales of a Rascal: What I Did for Love. In 2017, he married his fiancée, Pamela Hudak, only to file for divorce a year later.
Modus Operandi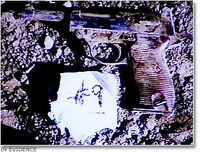 Whoever killed Bonny Lee Bakley, whether it was Blake, a hired gun, or someone else entirely, employed a Walther P38 semi-auto pistol, with the serial number filed off, to shoot her twice in her right cheek and shoulder. The gun was later discarded in a trash bin near the spot where Blake's car was parked.
Known Victims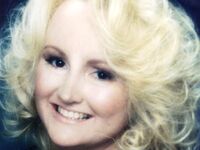 May 4, 2001: Woodbridge Street, Studio City, Los Angeles, California: Bonny Lee Bakley-Blake, 44 (possibly; was shot once in the right cheek and once in the shoulder)
On Criminal Minds
Season One

"A Real Rain" - The Robert Blake murder case was mentioned by Hotch as an example of a trial in which the defendant was widely believed to have escaped justice. It was cited, along with other similar cases, in order to convince Marvin Doyle, a vigilante and the episode's unsub, to surrender himself.
Sources
Wikipedia:
Michael Newton, John L. French. Celebrities and Crime. Chelsea House Pub. 2005. ISBN: 978-0-791-09402-0
ABC 20/20 - Robert Blake