We're Getting Mutants in the MCU - The Loop
Play Sound
Mark Goudeau, a.k.a. "The Baseline Killer", is an American abductor, robber, serial rapist, and later serial killer who was active in Arizona from 2005 to 2006, coinciding with another case of serial killings in the area.
History
Goudeau was born in 1964 in Phoenix, Arizona, as the second-youngest of thirteen children. His parents were Willie, a car dealer lot attendant, and Alberta, a maid, both of whom later divorced. Though Willie was strict, the household was, according to one of Goudeau's siblings, peaceful. Other siblings say that Willie was verbally abusive and that alcoholism ran in the family. Alberta died in 1976 when Goudeau was twelve. He went to high school at Corona del Sol High in Tempe, Arizona. He was good at sports and played football for the school team, but didn't graduate due to not having enough credits. On November 7, 1982, he and a brother were arrested for raping a young woman, but no charges were pursued. He was charged with trespassing in 1987 and with driving under the influence the following year. In August 1989, he was charged with abducting a woman, brutally raping and bludgeoning her. He claimed that she willingly had oral sex with him and that the rape and assault was the work of two other men. He was sentenced to fifteen years for the abduction and 21 years for a 1990 robbery. After serving thirteen years in prison as a model inmate, he was paroled in 2004 and moved into a house not far from the Baseline Killer crime area with his wife, Wendy Carr. Though his neighbors all knew that he had served time in jail, he was so well-liked that they could look past it. He got a job as a construction worker for a company called SelectBuild. The year after his parole, the Baseline Killer crimes began.
The first crime attributed to the Baseline Killer took place on August 6, 2005. The perpetrator forced three teenage girls behind a church and molested two of them. He is believed to have committed his first murder a month later. Over the course of the following eleven months, he committed several robberies, sexual assaults, and a total of eight additional murders. One murder, that of Sophia Nunez on April 10, 2006, wasn't attributed to the Baseline Killer until the ballistic evidence was compared to that of the other Baseline Killer victims, all of whom were shot with the same gun. On September 7, 2006, Phoenix police announced that they had arrested a suspect, Goudeau, for a double rape committed on September 20, 2005, attributed to the Baseline Killer. He was proven guilty of the crime through DNA evidence, tried for all 19 counts related to the attack and sentenced to 438 years. He has, according to Phoenix police, been proven guilty of the other Baseline Killer crimes through DNA, ballistic and circumstantial evidence. On October 31, 2011, Goudeau was found guilty of all the Baseline Killer murders and all other related charges except for three counts of robbery and one of kidnapping. In November, he was sentenced to death and is currently held at the death row at Arizona State Prison Complex Eyman. His friends and family have strongly defended him, insisting that the Phoenix police have arrested the wrong man; some have even gone so far as to accuse them of framing Goudeau for the crimes. His wife has since been running a website maintaining his innocence, starting in 2007.
Modus Operandi
Goudeau's targets, when he wasn't financially motivated, were women, except for Chao Chou, whose death appears to have been incidental. When he killed, the victims were typically snatched from a public corner, taken to some secluded nearby place (with the exception of Sophia Nunez, who was killed in her home) and shot in the head with a medium or large caliber weapon. Goudeau apparently used some kind of disguise and/or ruse while committing some crimes, such as wearing a Halloween mask to conceal his identity, approaching his victims asking for a ride or even pretending to be a homeless man or a drug addict. He appears to have been able to change his appearance simply by changing hairstyle or wearing different hats.
Known Victims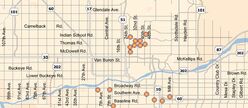 Murders
2005:

September 9: Georgia Thompson, 19
December 12: Tina Washington, 39

2006:

February 20:

Romelia Vargas, 38
Mirna Palma-Roman, 34

March 15: Liliana Sanchez-Cabrera and Chao Chou

Liliana Sanchez-Cabrera, 20
Chao Chou, 23 (apparently incidental)

March 29: Kristin Nicole Gibbons, 26
April 10: Sophia Nunez (killed in her home)
June 29: Carmen Miranda, 37
Rapes
November 7, 1982: Donna Sink (raped alongside one of his brothers; wasn't charged for the crime)
August 6, 1989: Darlene Fernandez (raped and non-fatally bludgeoned with a barbell)
2005:

August 6: Two unnamed teenage girls
August 14: Unnamed victim (also robbed)
September 15: Unnamed victim
September 20: Two unnamed sisters (one of them was pregnant)
September 28: Unnamed victim (also robbed)
November 3: Unnamed woman (abducted and sexually assaulted in her car)

May 1, 2006: Unnamed woman (sexually assaulted at gunpoint)
Robberies
Unspecified date in 1990: An unspecified robbery
2005:

September 28: 1425 West Baseline Road, Tempe
November 3: Cupid's Toy Box, a lingerie shop
November 7: Three separate robberies. The targets were:

Las Brasas, a Mexican restaurant
Little Caesar's Pizza restaurant
Four unnamed people robbed in the street

December 13: Unnamed woman
Other
August 6, 2005: Unnamed teenage girl (forced at gunpoint along with two friends who were molested)
On Criminal Minds
Season Two

"The Last Word" - Goudeau was mentioned, though not by name (as he had not been found guilty of the Baseline Killer crimes at the time), as an example of when two independent serial killers have been active in the same area at the same time, the other being a set of murders attributed to Dale Hausner and Samuel Dieteman, collectively known as The Serial Shooter.

Season Twelve

"In the Dark" - Goudeau was mentioned again, this time by name, alongside Hausner and Dieteman as an example of when two independent serial killers have been active in the same area at the same time.
Sources