Spider-Man: No Way Home Trailer Dropped - The Loop
Play Sound
"
Make one move and you'll be silent forever, and I'll be gone in the dark.
"

— DeAngelo to one of his victims
Joseph James DeAngelo, Jr., also known as "The Visalia Ransacker", "The East Area Rapist", "The Original Night Stalker", and, more recently, "The Golden State Killer", is an American burglar, rapist, and killer who was active in Northern California from March 1974 (possibly 1968 or mid-1973) to July 1979, and Southern California from October 1979 to May 1986. He is not to be confused with serial killer Richard Ramirez, who holds a similar title of The Night Stalker.
After more than forty years from the beginning of his crime spree, on April 25, 2018, then 72-year-old DeAngelo was arrested and charged with thirteen counts of murder and kidnapping related to the "Original Night Stalker" killings. On June 29, 2020, in order to avoid the death penalty, he either admitted or pleaded guilty to his 76 confirmed crimes, including some he committed as the "Visalia Ransacker". He was given twelve life imprisonment without parole sentences on August 21 of the same year.
Background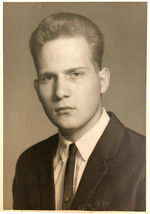 DeAngelo was born in Bath, New York, in 1945. He is the oldest of Joseph DeAngelo, Sr. and Kathleen Bosanko's four children. According to a relative, while his father, a U.S. Army sergeant, was stationed in West Germany with his family, Joseph, Jr. (who was 9 or 10 years old at the time) witnessed his sister being gang-raped by two airmen. During his trial, his siblings told the court that their father had abused him as a child.
At some point, his family relocated to Sacramento, California, where he attended two different high schools (one of which was in Rancho Cordova) from 1959 to 1964. In September 1964, he joined the U.S. Navy and served for 22 months during the Vietnam War as a damage controlman on cruisers. After his discharge, he attended Sierra College in August 1969, later graduating with honors from an associate degree in police science.
In May 1970, Joseph became engaged to Bonnie Jean Colwell, a classmate, but she broke it off when he became abusive, in one instance pulling a gun on her to force her to marry him. The breakup angered him so much that he would later say "I hate you, Bonnie!" to one of his rape victims. A year later, he attended California State University in Sacramento, obtaining a bachelor's degree in criminal justice. He took post-graduate courses, police training at the College of the Sequoias, in Visalia, and completed a police internship at the Roseville Police Department. From May 1973 to August 1976, he worked as a burglary unit police officer in Exeter (near Visalia), where he was considered by his colleagues as "the black sheep": an ambitious loner who never quite fit in with them.
Approximately in the same period, he embarked on a prowling and burglary spree as the "Visalia Ransacker", and almost certainly ended up investigating his own crimes when he was promoted sergeant in charge of the Exeter Police Department's "Joint Attack on Burglary" program.
The Visalia Ransacker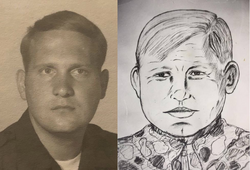 As the "Visalia Ransacker", DeAngelo usually prowled around neighborhoods and broke into single-family homes, tearing apart the interior while only stealing small, personal trinkets (ignoring more valuable items in plain sight). Part of his M.O. consisted in placing "warning items", such as dishes or bottles, against doors and on door handles (a technique he would later re-adapt during his career as a serial rapist). His first reported crime was on March 19, 1974, but it is presumed that he might have began as early as in 1968/69 (similar crimes were reported in 1968, and DeAngelo's sister moved in the area in 1969) or mid 1973. The Ransacker was also suspected of perpetrating a number of rapes and murders in the area.
On September 11, 1975, while attempting to kidnap 16-year-old Beth Snelling, he ended up shooting dead his father, 45-year-old journalism professor Claude Snelling. The last known activity of the Ransacker was on December 12, 1975, when he was caught prowling by a local detective, William McGowen. After feigning surrender, DeAngelo pulled a gun and shot at McGowen, shattering his flashlight, before escaping. McGowen would later provide a description of the Ransacker while under hypnosis, describing the shooter as "baby-faced".
A connection between the Ransacker and the EAR-ONS was first assumed in 1977, and eventually confirmed with DeAngelo's guilty pleas in June 2020. The Ransacker crimes were also linked to two other series of burglaries committed by the so-called "Cordova Catburglar" and the "Exeter Ransacker" in 1973.
The East Area Rapist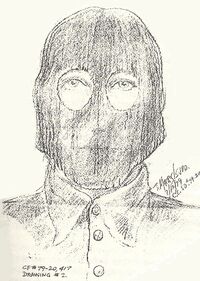 On June 18, 1976, the first attack committed by DeAngelo as the "East Area Rapist" occurred in Rancho Cordova, at 4:00 a.m. About six months and exactly seven attacks later, the affected communities began to worry, while the Sheriff Department of Sacramento advised to the news stations to not report the rapes. In October 18, two attacks occurred on the same day, to which authorities held neighborhood meetings set up to inform civilians and dispel false rumors. On April 2 of 1977, after over 15 attacks occurred, the first couple was attacked. On May 17, Sacramento County was thrust into a state of panic after the East Area Rapist threatened to murder his next two victims. As a result, sheriff patrols were increased and even civilians formed their own patrols. However, the East Area Rapist sent a taunt to the heightened security by attacking his first couple in Sacramento's South Area, near the office of a dentist who contributed an additional $10,000 to the $15,000 reward for his apprehension.
On September 6, the first couple in Stockton was attacked, leading to the same effect of heightened security found in Sacramento County. Believing that the East Area Rapist permanently relocated his crimes, patrols in Sacramento County disappeared, only for another couple to be attacked in the College Greens/Glenbrook area. On February 2, 1978, Brian and Katie Maggiore were found dead, having been shot to death while walking their dog. Some investigators suspected that they had been murdered by the East Area Rapist because of their proximity to the other attacks' location, and the fact that a shoelace (which was frequently employed by the EAR to tie up his victims) was found nearby. On June 5, 1978, the EAR turned up for the first time in Stanislaus County, assaulting a couple living in Northeast Modesto. Between that date and July 5 of 1979, he had been active in Modesto, Davis, Concord, Danville, San Ramon, San Jose, Fremont, and Walnut Creek. The attacks abruptly ended after an attempted attack on July 5, 1979, when a would-be victim who was a light sleeper woke up and found a man putting on a ski mask, chasing the intruder away. The East Area Rapist briefly resurfaced on October 1, entering the home of a couple (their names were revealed as pseudonyms, Mary Brown and John Davis) and tying them up. As he ransacked the house for valuables, the couple escaped and the intruder was forced to flee on a bicycle.
The entire EAR's crime spree loosely coincided with DeAngelo's service as an Auburn (part of the Sacramento metropolitan area) police officer, from August 1976 to July 1979, when he was arrested for shoplifting a hammer and dog repellent (the EAR's attacks abruptly ended in the same month). He was sentenced to six months on probation and eventually fired in October (when the EAR committed his last known attack). As a form of retaliation for his firing, DeAngelo went to the house of the chief of police (whom he had threatened with death earlier) and started peeping through his daughter's room's window with a flashlight (it was never confirmed whether it was really him or not, but it is deemed highly probable. Anyway, whoever he was he ran away as soon as he realized his presence had been detected). In November 1973, DeAngelo had married Sharon Marie Huddle, with whom he relocated to Citrus Heights (where he also lived before relocating to Exeter) in 1983.
The Original Night Stalker
On December 30, 1979, DeAngelo committed his first murders as the "Original Night Stalker", killing Dr. Robert Offerman and Debra Manning by shooting both to death, presumably after Offerman managed to escape from his bonds and attempted to fight back. On March 13 of the following year, the next victims, Lyman and Charlene Smith, were found dead, this time by bludgeoning with a fireplace log. At this time, it was revealed that the bonds used to restrain their victims were tied in a "diamond knot", hence is lesser-known nickname: "The Diamond Knot Killer". Months later, Keith and Patrice Harrington were also murdered, and then, on February 5, 1981, The Original Night Stalker killed his first lone murder victim, Manuela Witthuhn.
Following this murder were three more murders, of Cheri Domingo and Gregory Sanchez on July 27 and Janelle Lisa Cruz on May 4, 1986. In 1990 or 1991, the criminal made his last known contact with the public, on a phone call he made to one of his victims. Then, he disappeared completely and no murders or rapes committed by him have followed.
About a decade later, in 2001, a remarkable connection was made by authorities. It was discovered that the DNA of the Original Night Stalker and the East Area Rapist belonged to the same individual, making the unknown perpetrator "the most prolific serial offender" in California history.
The Original Night Stalker's hiatus from 1981 to 1986 coincided with the birth of DeAngelo's first daughter, in 1981. His second daughter was born in 1986. DeAngelo and his family were living in Long Beach at the time, and he found work as a diesel mechanic. From 1990 until his retirement in 2017, he worked as a truck mechanic at a supermarket distribution center in Roseville. He was arrested in 1996 over an incident at a gas station, but the charge was dismissed. In 1991 he and his wife separated (she would later file for divorce in 2018).
Arrest and Guilty Pleas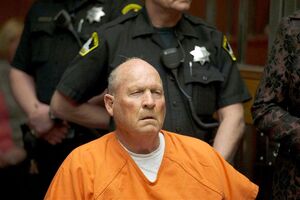 Thirty-two years after the ending of his killing spree, and 45 years after the beginning of his crimes, DeAngelo was finally arrested on April 25, 2018. He was still living in Citrus Heights with one of his daughters and a grandchild, at the time. DeAngelo had been identified four months earlier as the main suspect, when DNA from an ONS rape case was uploaded to the personal genomics website GEDmatch. With help from a genealogist, Paul Holes (a sheriff investigator who worked on the EAR-ONS cold cases) and an FBI lawyer constructed a family tree based on GEDmatch's results and eventually narrowed the list to DeAngelo. After a DNA sample was surreptitiously collected from the door handle of DeAngelo's car, it was matched with samples related to the Golden State Killer's crimes.
The latter nickname was coined by true crime writer Michelle McNamara, who was writing an account of the EAR-ONS case titled I'll Be Gone in the Dark: One Woman's Obsessive Search for the Golden State Killer. The book was published posthumously on February 27, 2018, nearly two years after McNamara's death by an accidental drug overdose, and two months before DeAngelo's arrest.
DeAngelo was charged with 13 murders and kidnappings related to the ONS. On March 4, 2020, he offered to plead guilty if the death penalty was taken off the table. On June 29, he either admitted (due to California's statute of limitations) or pleaded guilty to all of his confirmed crimes. On August 21 of the same year he was given 12 sentences of life imprisonment without parole, plus eight years. DeAngelo apologized to his victims during sentencing, which was held in the ballroom of the very same university of Sacramento where he graduated in 1972.
Modus Operandi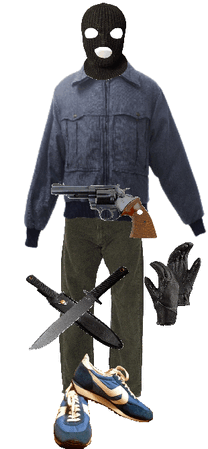 As the "Visalia Ransacker", DeAngelo would prowl around neighborhoods in Visalia, peeping through windows even in broad daylight. At night, he would break into the homes he had pre-selected during the day and tear apart the interior, stealing mostly personal items and trinkets. He utilized a flashlight, a ski mask, and at least on two occasions carried a gun with him: a Miroku revolver he used to shoot Snelling and detective McGowen.
As the "East Area Rapist", DeAngelo would travel around middle-to-upper-middle-class neighborhoods in search of victims living in single-story houses on or near cul-de-sacs or adjacent to vacant fields, schools, parks, creeks, or construction sites. When a suitable victim was found, he would wait for night to dawn and stealthily break into the house with the occupant(s) still inside. Initially, the perpetrator targeted lone women but began to shift his focus towards couples. He would surprise the occupants and put them under control by threatening them with several weapons (guns, knives, clubs, etc), then bind them with ligatures tied in a diamond knot. While most of the female victims were raped, males, if present, were tied up with dishes and/or saucers placed on their backs (at that point he would threaten to kill everyone in the house if he heard them moving).
As the "Original Night Stalker", DeAngelo would kill the present male, should there be one, by bludgeoning. He would then sexually assault the females before murdering them as well. In the case of his first murders, both victims were shot only. During his time as the East Area Rapist, he killed Brian and Katie Maggiore by shooting them both as they walked their dog, presumably in an attempted attack that went wrong. During all of his attacks, he wore some kind of mask (usually a ski mask) to obscure his identity. In some cases, the criminal continued to stalk surviving female victims or relatives of his fatal victims for years after the attacks, as harassing phone calls were made on the anniversary of the attacks even two or three decades later.
Acting & Directing
DeAngelo was less known for Acting & Directing his own films & shorts in which were a commercial failed, described by the viewers In 1989 DeAngelo made his first short-film named Into The Dark the film starred unknown actors and actresses such as Jerry Winchester, Jamal Otis, & DeAngelo oddly as the killer or villain The short turned out to be a commercial failure it took 1 day in production, DeAngelo then created his 1st full length film in 1991 called The Monster it took 3 years in the making DeAngelos films never made it to television or DVD afterwards, DeAngelo quitted his acting career to be a former police officer.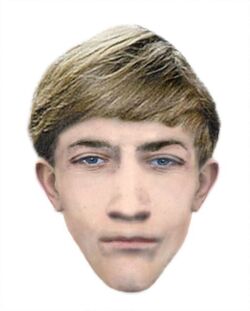 During the investigation, criminalists compiled a psychological profile of the Golden State Killer (at the time known only as the "Original Night Stalker"), which stated that he was a white male in the age of 18 to 25 at the time the crimes began, with blue or hazel eyes, between 5'8" and 5'11", and physically fit. He most likely wore a Size 9 shoe and had Type A blood. He lived in the Sacramento area between 1976 and 1979 and had been known to pose as a realtor, building inspector, or prospective homebuyer. He showed proficiency in tying diamond knots and likely engaged in bondage-oriented fantasies with female sexual partners as well as collected pornographic material involving bondage. Somehow, he had access to a large collection of handguns and knives, as well as flashlights.
He likely became a voyeur in his late teens or early twenties. He lived and/or worked near Ventura, California in 1980 and had some means of income, but did not work in the early morning hours. He drove a well-maintained car (possibly an older Volkswagen Beetle as of 1977), dressed well and didn't stand out in upscale neighborhoods. He appeared harmless, was intelligent and articulate, and was neat and well-organized in his personal life. Due to the constant rapes and murders, he was possibly unmarried and did not enter into long-term relationships; and would have been described by those who knew him as arrogant, domineering, manipulative, and a chronic liar.
According to the crime scenes, he had some knowledge of police investigative methods and evidence gathering techniques, possibly acquired from law enforcement or military police training. He was an experienced cat burglar and might have begun raping and murdering that way; this would also make the possible conclusion that he had a criminal record as a teenager that was expunged, engaged in sex with prostitutes, peeped into the windows of many potential victims whom he did not attack, engaged in deviant paraphilic behavior and violent sex in his personal life, and was sexually functional and capable of ejaculation with consenting and non-consenting partners. The profile has also stated that the criminal would be self-assured and confident in his abilities; hated women for real or perceived wrongs; and would continue committing violent crimes until incapacitated by prison, death, or some other intervention. If married, he probably had a submissive spouse who tolerated his sexually deviant behavior.
Although not so much is yet known on DeAngelo's life, he seems to fit this profile (and that of the Visalia Ransacker) very well: he was physically fit, biked, dived, fished, and was a boating enthusiast, even in old age. He was a police officer and was described by neighbors as overly meticulous, with a short temper (he once pulled out a gun during an argument over a parking spot), and was prone to loud verbal outbursts. He was also known to visit strip clubs. According to his brother-in-law, DeAngelo casually brought up the East Area Rapist in conversation around the time of the original crimes, showed him suspicious melted gold and hand-cast gold bars (presumably souvenirs of his crimes), and enjoyed watching splatter films.
Known Victims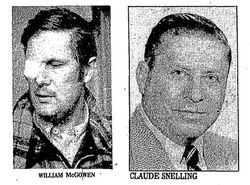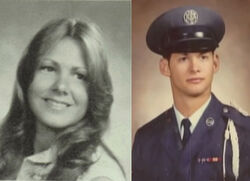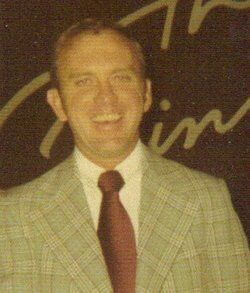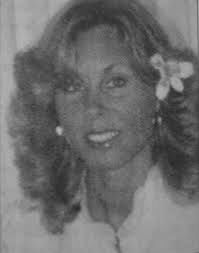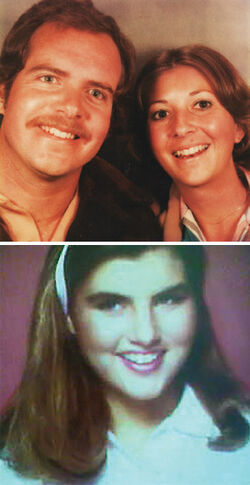 All the following occurred in California.
As the "Visalia Ransacker":
All the following occurred in Visalia.
From 1968/mid 1973/March 1974 to December 12, 1975/until 1976: A series of victimless fetish/voyeur prowlings and burglaries
From 1972 to 1973: Rancho Cordova: the "Cordova Catburglar" and "Exeter Ransacker" crime spree (possibly)
Unspecified date and location: Elizabeth Silva, 12 (possibly; was raped only)
1974:

February: Pamela Escalante, 12 (possibly; was raped and beaten only)
October 9: An unspecified attempted rape (possibly)
November 15, 1974: Jennifer Armour, 15 (possibly; was abducted and murdered)
November 30: Twelve separate burglaries

1975:

April 3: An unspecified kidnap/rape (possibly)
September 11:

Beth Snelling, 16 (attempted to abduct; survived)
Claude Snelling, 45 (Beth's father, shot twice to death)

December 12: Detective William McGowen (shot at while chasing him; was injured in his right eye; survived)
December 27: Donna Richmond, 15 (possibly; was found murdered)
Note: Similar crimes were also reported after McGowen's attack, until 1976
As the "East Area Rapist":
All the following occurred in the Sacramento, San Joaquin, Stanislaus, Yolo, Contra Costa, Santa Clara, and Alameda counties. Almost all of the female victims were raped only. Almost all of the male victims were tied up only.
1976:

June 18, Rancho Cordova: Unnamed 23-year-old woman
July 17, Carmichael: Unnamed 15-year-old girl
August 29, Rancho Cordova: Unnamed woman (beaten with a club in front of her 12-year-old daughter; survived)
September 4, Crestview: Unnamed 29-year-old woman
October 5, Citrus Heights: Jane Carson, 29
October 9, Rancho Cordova: Unnamed woman
October 18:

Carmichael: Unnamed woman
Rancho Cordova: Unnamed woman (assaulted and tied only; aborted attack)

November 10, Citrus Heights: Unnamed 16-year-old girl (assaulted and tied only; aborted attack)
December 18, Carmichael: Kit Pedretti, 15

1977:

January 19, La Riviera: Unnamed woman
January 24, Citrus Heights: Unnamed 25-year-old woman
February 7, Crestview: Unnamed 31-year-old woman
February 16, Ripon Court: Rodney Miller, 16-18 (shot in the stomach while chasing him; survived)
March 8, Sacramento: Unnamed 37-year-old woman
March 18, Rancho Cordova: Unnamed 16-year-old girl
April 2, Orangevale: Unnamed couple
April 15, Crestview: Unnamed couple
May 3, La Riviera: Unnamed couple
May 5, Orangevale: Unnamed couple
May 14, Citrus Heights: Unnamed couple
May 16, Carmichael: Unnamed couple (possibly intended; trespassed their property)
May 17, Carmichael: Unnamed couple
May 28, South Sacramento: Unnamed couple
September 6, Stockton: Unnamed couple
October 1, La Riviera: Unnamed couple
October 21, Foothill Farms: Unnamed couple
October 29, Sacramento: Unnamed couple
November 10, in La Riviera: Unnamed 13-year-old girl (molested only)
December 2, Foothill Farms: Unnamed woman (intended, was tied up only)

1978:

January 28, Carmichael: Two unnamed teenage sisters
February 2, 1978, Sacramento: Brian and Katie Maggiore (both shot while walking their dog):

Sergeant Brian Keith Maggiore, 21 (shot in the chest)
Katie Lee Smith Maggiore, 20 (shot in the head)

March 18, Stockton: Unnamed couple
March 29: Rancho Cordova: Unnamed 30-year-old woman (possibly)
April 14, Sacramento: Unnamed teenage girl
June 5, Modesto: Unnamed couple
June 7, Davis: Unnamed 21-year-old woman
June 23, Modesto: Unnamed couple
June 24, Davis: Unnamed couple
July 6, Davis: Unnamed woman (raped in front of her two sons)
October 7, Concord: Unnamed couple
October 13, Concord: Unnamed couple
October 28, San Ramon: Unnamed couple
November 4, San Jose: Unnamed 34-year-old woman
December 2, San Jose: Unnamed couple
December 9, Danville: Unnamed woman
December 18: San Ramon: A victimless home invasion (possibly)

1979:

January 2, 1979: San Ramon: A victimless home invasion (possibly)
March 20: Rancho Cordova: Unnamed woman (tied up only)
April 4, Fremont: Unnamed couple
June 2, Walnut Creek: Unnamed teenage girl
June 11, Danville: Unnamed couple (attack occurred two blocks away from the December 9, 1978 attack)
June 25, Walnut Creek: Unnamed 17-year-old girl
July 5, Danville: Unnamed couple (intended; fled when the husband saw him put on his ski mask)
October 1, Goleta: "Mary Brown" and "John Davis" (pseudonyms; both tied up; intended rape the woman; they escaped)
As the "Original Night Stalker":
All the following occurred in the Santa Barbara, Ventura, and Orange counties.
December 30, 1979, Goleta: Robert Offerman and Debra Manning (both shot to death in their bed):

Dr. Robert Offerman, 44
Debra Alexandria Manning, 35

1980:

March 13, Ventura: Charlene and Lyman Smith (both bludgeoned to death with a fireplace log):

Charlene Smith, 33 (was raped also)
Lyman Smith, 43

August 19, Dana Point: Keith and Patrice Harrington (both bludgeoned to death with an unknown object):

Keith Harrington, 24
Patrice Harrington, 27 (was raped also)

1981:

February 6, Irvine: Manuela Eleanore Rohrbeck Witthuhn, 28 (raped and bludgeoned to death with an unknown object)
July 26-27, Goleta: Cheri Domingo and Gregory Sanchez (both bludgeoned to death with an unknown object)

Cheri Domingo, 35 (also raped; bludgeoned over ten times)
Gregory Sanchez, 27 (was non-fatally shot before being bludgeoned 24 times)

May 4, 1986, Irvine: Janelle Lisa Cruz, 18 (raped and bludgeoned to death with an unknown object, possibly a pipe wrench)
Note: He is suspected of perpetrating at least 120 burglaries
On Criminal Minds
While the Golden State Killer was never directly mentioned or referenced on the show, he appears to have been an inspiration for the following unsubs:
Season Four

Floyd Hansen ("Paradise") - Both were serial killers and rapists who committed crimes against women prior to their killings, evolved from fetish burglars, targeted lone women before moving on to middle-class couples, who they tied up, forcing the men to watch while they raped the women, and then bludgeoned to death.
Armando Salinas ("Catching Out") - Both were serial killers and cop killers who were active in California, attacked couples in their homes, killed them by bludgeoning them to death with an object from the house (DeAngelo only while operating as the "Original Night Stalker"), and were given nicknames for their crimes.

Season Five

Robert Johnson ("The Internet Is Forever") - Both are serial killers who targeted lone women in middle-to upper-middle-class neighborhoods, previously stalked their victims for a prolonged amount of time, and broke stealthily into their homes during the night while wearing similar, dark clothes and a ski mask. Also, the instance of Johnson becoming familiar with the German shepherd owned by one of his victims and releasing it the night of the murder is very similar to reports of East Area Rapist victims claiming that guard dogs were unusually not aggressive to the attacker, as if they had become accustomed to him previously.
Billy Flynn ("Our Darkest Hour" and "The Longest Night") - Both were prolific serial rapists, serial killers, and cop killers who were active in Southern California at some point in their careers, targeted couples, invaded their victims' homes during nighttime, their M.O. involved bludgeoning or shooting, and were given nicknames for their crimes. Flynn also appeared in Season Six.
Sources
References
↑ Acronym for "East Area Rapist-Original Night Stalker"