Spider-Man: No Way Home Trailer Dropped - The Loop
Play Sound
Gary Lee Sampson is an American bank robber-turned-spree killer who murdered three men in a six-day span across two states.
Background
Sampson was born on September 29, 1959 in Weymouth, Massachusetts. He was raised in Abington by his parents, Elbert "Herc" Sampson (a firefighter, salesman, and ice cream truck driver) and his wife Charlotte. Elbert was allegedly very physically and emotionally abusive towards his son, calling him "retarded" and once throwing him down the stairs (which supposedly led to a head injury). Sampson was highly intelligent and was denied a special education despite the fact that he had dyslexia. Despite this, Sampson still dropped out of school in the 9th grade and began racking up a lengthy juvenile record and even escaped jail twice. He was first married at the age of 17 and was divorced and remarried a total of five times. Sampson also allegedly lived with numerous cross-dressers and transvestites, which helped him learn to apply make-up and disguise his appearance (something he would take advantage of when committing his crimes). Sampson eventually began robbing banks in North Carolina.
Murders, Capture, and Sentencing
In July 2001, Sampson went on a six-day killing spree. After unsuccessfully attempting to report himself to the FBI for his bank robberies, Sampson hitchhiked and was picked up by Philip McCloskey. Sampson forced him to a secluded spot, tied him to a tree with a belt, and stabbed him two dozen times. His body was found two days later. Just a day after the murder, Sampson was picked up by a 19-year old college student named Jonathan Rizzo; he was subsequently gagged and murdered like the previous victim. On July 30, Sampson met Robert Whitney and took him to a cottage and strangled him to death. The next day, Sampson also met and attempted to kill a fourth victim, William Gregory, who escaped by skidding his car onto the shoulder and jumping from the car while it was still in drive. Sampson fled the car and broke into a ski chalet and called 911 on himself. He was captured without resistance. After a lengthy trial, Sampson was sentenced to death on December 23, 2003. His lawyers have made several appeals but none of them worked. Sampson is currently on death row at the United States Penitentiary, Terre Haute. While incarcerated, Sampson wrote an autobiography titled The DNA of a Killer: Society's Child, Gary Lee Sampson.
Modus Operandi
Sampson posed as a hitchhiker and targeted men who picked him up. After holding them at knifepoint, he would force them to drive to a secluded location, then tie them up with a belt and beat them before stabbing them to death with a pocket knife. One victim was strangled to death instead.
Profile
Sampson was once described as "angry with the world and having an explosive temper" by Ricky Carter, a transvestite he had a relationship with. At trial, the defense argued that Sampson had Bipolar disorder and had suffered dyslexia as a child and "significant mental impairment". A psychiatrist stated that Sampson was deeply antisocial and had antisocial personality disorder instead.
Known Victims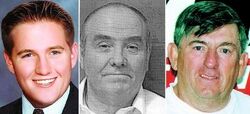 Abington, Massachussets:

Unspecified date in 1974: A victimless home invasion
Unspecified date in 1976: An attempted victimless gasoline theft
Unspecified date in 1978 in Weymouth: An unnamed girl, 15 (raped; was acquitted)
Unspecified date in 1980: A victimless armed robbery (stole a car)

Tamworth, New Hampshire:

Unspecified date in 1982: A victimless break-in (broke into a gas station)
Unspecified date in 1984: A victimless burglary
Unspecified date in 1997: An unspecified assault and threats
Unspecified date in 1998: An unnamed woman (threatened only)

2001

April-June: North Carolina: Five victimless bank robberies
Massachusetts:

July 24: Taunton: Philip Anthony McCloskey, 69 (tied with a belt and stabbed 24 times)
July 27: Kingston: Jonathan Michael Rizzo, 19

July 30: Concord, New Hampshire: Robert Clyde "Eli" Whitney, 58 (strangled)
July 31: Vermont:

William Gregory, 41 (held at knifepoint; he escaped)
A victimless break-in (broke into a ski chalet)
On Criminal Minds
Season Eleven

"Awake" - Sampson was mentioned by Morgan when he compared his M.O. of posing as a hitchhiker and preying on good samaritans to that of the episode's unsub, William Taylor, who may have been loosely based on - Both were killers with some sort of family-related stressor (Sampson was abused by his father, while Taylor's daughter was kidnapped and murdered), targeted men, posed as a hitchhiker to lure them, bound and beat their victims before killing them, and had a surviving last victim.
Sources