Jurassic World: Dominion Dominates Fandom Wikis - The Loop
Play Sound
"
Because I believe that abortion is murder, I also believe that force is justified in an attempt to stop it.
"

— Rudolph
Eric Robert Rudolph, a.k.a. The Olympic Park Bomber, is an American serial bomber, homegrown terrorist, and one-time cop killer most infamous for the Centennial Olympic Park Bombing, which, on July 27, 1996, killed one person (and caused the fatal heart attack of another) and wounded 111 others. He carried out three other bombings in the South, killing a police officer and severely injuring twelve others before going on the run. He was arrested in 2003.
Background
Rudolph was born on September 19, 1966 and raised in Merritt Island, Florida. In 1981, his father, Robert, died, and his mother, Patricia Murphy, moved to Nantahala, Macon County, North Carolina, with him and his older brother, Daniel. He dropped out of school after finishing ninth grade and became a carpenter. At the age of 18, he spent some time at a Christian Identity compound in Missouri with his mother, though he stated after his arrest that he was not a follower of it; he instead identifies as a Roman Catholic. After getting his General Education Diploma, Rudolph studied at Western Carolina University for two separate semesters. In August 1987, he enlisted with the US Army and underwent basic training. In 1988, he went to the Air Assault School at Fort Campbell, Kentucky. While serving in the 101st Airborne Division in 1989, Rudolph was discharged for smoking marijuana.
Bombings, Capture, and Incarceration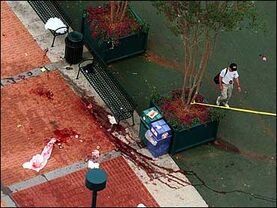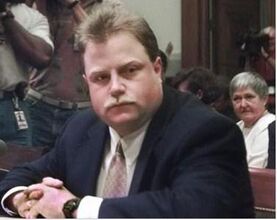 For many years I thought long and hard on these issues and then in 1996 I decided to act. In the summer of 1996, the world converged upon Atlanta for the Olympic Games. Under the protection and auspices of the regime in Washington millions of people came to celebrate the ideals of global socialism. Multinational corporations spent billions of dollars, and Washington organized an army of security to protect these best of all games. Even thought the conception and purpose of the so-called Olympic movement is to promote the values of global socialism, as perfectly expressed in the song "Imagine" by John Lennon, which was the theme of the 1996 Games even though the purpose of the Olympics is to promote these despicable ideals, the purpose of the attack on July 27 was to confound, anger and embarrass the Washington government in the eyes of the world for its abominable sanctioning of abortion on demand.
- Rudolph's statement explaining his motive for the Centennial Olympic Park bombing
On July 27, 1996, Rudolph carried out the bombing for which he became most infamous, planting an explosive device at Centennial Olympic Park on the eighth day of the 1996 Summer Olympics in Atlanta, Georgia. He later stated in his confession that he targeted the event because it promoted socialism, and so he wanted to embarrass the US government. He also said the plan was to force the games to cancel and, in doing so, ensure that the money spent on arranging the event were spent on something else. On that day, a Jack Mack and the Heart Attack concert was being held. At 12:30 AM, a security guard, Richard Jewell, spotted the green bag near the sound tower where Rudolph had placed his bomb. Jewell contacted an attending Georgia Bureau of Investigation agent and his supervisor, informing them about the package.
When a federal bomb squad spotted wires on the backpack, it was ordered that the area be evacuated. While security guards escorted crowd members out of the area, Jewell cleared the sound tower of personnel. At 12:58 AM, an anonymous 911 call stating that a bomb would go off at the park was made. At 1:20 AM, the device exploded. In no small part thanks to Jewell sounding the alarm, several lives were saved. Only two people died in the bombing: the first was Alicia Hawthorne, who was killed by the blast when a nail used for shrapnel hit her in the head; the second was Melih Uzunyol, a Turkish cameraman who suffered a fatal heart attack when he rushed to the scene to film it. 111 other people received non-fatal injuries. For a few days, Jewell was hailed as a hero. However, The Atlanta Journal-Constitution published an article that revealed he was being treated by the FBI as a "person of interest", and so he suffered a trial by the media.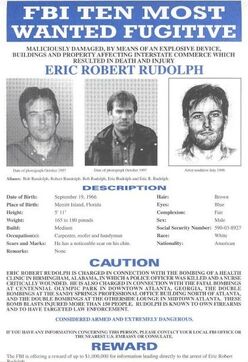 In 1997, Rudolph carried out two more bombings in Atlanta: one at an office building near the Northside Family Planning Services abortion clinic and another at the Otherside Lounge, a gay nightclub. Nobody was killed in either bombing, though a total of eleven people were injured. In 1998, he bombed the New Woman All Women abortion clinic in Birmingham, Alabama, killing Robert Sanderson, an off-duty police officer who moonlighted as a security guard, and severely injuring Emily Lyon, a nurse and counselor at the facility. Fortunately, Rudolph was seen taking off a blonde wig by a witness who also saw his car and its license plate.
As everything was being traced back to him, Rudolph went on the run and became a fugitive. Being a rather excellent survivalist, he spent five years in the wilderness of the Appalachian Mountains near North Carolina. On May 5, 1998, the FBI placed him on their Ten Most Wanted list and issued a $1 million reward. At the turn of the millennium, he was No. 7 on the list, above mob kingpin James J. "Whitey" Bulger, international terrorist Osama bin Laden, and James Charles Kopp, another anti-abortion terrorist who shot and killed a gynecologist with a rifle. Finally, on October 14, Rudolph was charged with the Centennial Olympic Park bombing, as well as the two bombings in Georgia when it was discovered that the explosive devices were of similar design.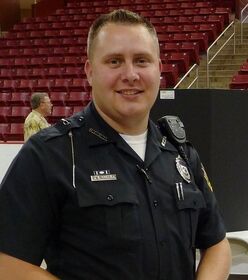 While Rudolph was a fugitive, some extremist groups praised him as a hero. Some hate groups not only hoped he would never get caught (it is suspected that he was given shelter by some of his supporters), but also urged others to commit similar bombings. T-shirts reading, "Run Rudolph Run" were produced, as well as signs and bumper stickers about him. A restaurant jokingly put up a sign reading, "Rudolph eats here". On May 31, 2003, he was spotted by Officer Jeffrey Scott Postell outside a Save-a-Lot store in Murphy, North Carolina. Believing him to be a burglar, Postell arrested him. Rudolph identified himself as "Jerry Wilson" and was taken to the police station, where another officer recognized him from the FBI's Ten Most Wanted list.
Rudolph made a plea bargain to receive four life sentences for his crimes and avoid the death penalty in exchange for a full confession. He also helped the investigators find a supply of 250 pounds (113 kg) of dynamite he had hidden in Birmingham and made a formal statement about his motivations. He admitted to having planned another bombing, an abortion clinic in Asheville, North Carolina, shortly before the presidential election. On July 18, 2005, Rudolph was sentenced to two consecutive life sentences for the Birmingham bombing. On August 22, he received two more sentences for his other bombings. He is currently incarcerated at the ADX Florence Supermax prison in Colorado, where Theodore Kaczynski, a.k.a. The Unabomber, terrorist Richard Reid, spy Robert Hanssen, and co-conspirators of the 1993 World Trade Center bombing are also incarcerated. Though he spends 22-and-a-half hours in confinement, he still writes essays about his beliefs. They are published on a website hosted by the Army of God, an American anti-abortion movement, which, according to the Global Terrorism Database, is responsible for over twenty acts of terrorism in the US between 1982 and 1998, including the Centennial Olympic Park bombing[2]. In 2013, Rudolph, with the help of his brother and the self-publishing website Lulu.com, published his memoirs, Between the Lines of Drift, in which he describes how he survived in the wilderness. The Army of God has also published it on their website.
Modus Operandi
Rudolph usually targeted abortion clinics or gay bars. His bombs were made of nitroglycerin dynamite, used nails for shrapnel, contained steel plates and Rubbermaid containers, and used alarm clocks for timers. The bomb planted at Centennial Olympic Park also included pipe bombs and was concealed in a green military-style backpack. It also had a steel plate that functioned as a directional device, sending shrapnel in whatever direction Rudolph wanted it to go.
Profile
Rudolph has been described as a terrorist of the "lone wolf" type. As the name implies, they operate alone and act without a leader or group, though they may adhere to a specific ideology or religion of another movement or organization. Their beliefs are often rooted in extreme right-wing ideologies. Rudolph personally was extremely pro-life and also anti-gay.
Rudolph's design of his 1996 bomb included a steel plate that functioned as a directional device, similar to a Claymore mine. This told investigators the suspect was either in the military or had previously served. Rudolph's deployment of secondary bomb devices meant to target first responders also reinforced the theory of the bomber having previous military experience.
Known Victims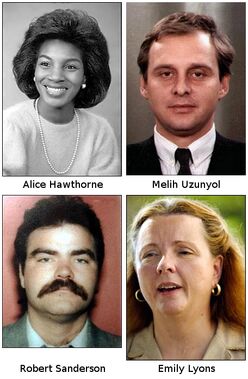 July 27, 1996, Atlanta, Georgia: Two killed and 111 more injured in the Centennial Olympic Park bombing. Known victims are:

Alice Hawthorne, 44 (killed by a piece of shrapnel)
Melih Uzunyol, 40 (cameraman; indirectly killed; died of a heart attack when he ran to film the explosion's aftermath)
Calvin Thorbourne, 25 (injured; wounded in the leg by shrapnel)
Fallon Stubbs, 14 (Hawthorne's daughter; injured; wounded in the right arm and thigh by shrapnel)

1997:

January 16, Sandy Springs, Georgia: Six unnamed people in the Northside Family Planning bombing (all injured by the bombing)
February 21, Atlanta, Georgia: Five unnamed people in the Otherside Lounge bombing (all injured by the bombing)

January 29, 1998, Birmingham, Alabama: One killed and one injured in the New Woman All Women bombing. The victims are:

Robert Sanderson, 34 (security guard; killed)
Emily Lyons, 41 (nurse and counselor; injured)
Notes
On Criminal Minds
On Criminal Minds: Suspect Behavior
Sources
References
↑

Although Rudolph did kill three victims and in a serial fashion, he is still listed as unclassified because one victim was not intentionally killed and did not die as a direct result of the attack (just its aftermath).