Spider-Man: No Way Home Trailer Dropped - The Loop
Play Sound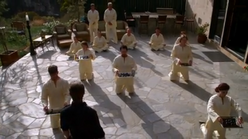 A cult is a ritualistic group of followers of specific subjects, be they a person, object, religion, etc.
Definition
In traditional usage, the cult of a religion, quite apart from its sacred writings ("scriptures"), its theology or myths, or the personal faith of its believers, is the totality of external religious practice and observance, the neglect of which is the definition of impiety. Cult in this primary sense is literally the "care" (Latin cultus) owed to the god and the shrine. In the specific context of Greek hero cult, Carla Antonaccio has written, "The term cult identifies a pattern of ritual behavior in connection with specific objects, within a framework of spatial and temporal coordinates. Ritual behavior would include (but not necessarily be limited to) prayer, sacrifice, votive offerings, competitions, processions and construction of monuments. Some degree of recurrence in place and repetition over time of ritual action is necessary for cult to be enacted, to be practiced"
Cult is embodied in ritual and ceremony. Its present or former presence is made concrete in temples, shrines and churches, and cult images (denigrated by Christians as "idols") and votive deposits at votive sites. Many rituals of cults include initiations, branding mutilations, derivative philosophies rife with word salad, and recruitment of members in civilians. A common schematic of cults are either developing a hierarchy with the founders and leaders at the top or no concise leaders and more of a pack mentality. Actions of cults are characteristic from isolating members into hive minds to planning and committing acts of felony, abuse, extortion, violence, and even terrorism.
By extension, "cult" has come to connote the total cultural aspects of a religion, as they are distinguished from others through change and individualization. More recently, the term "cult" has also extended to criteria fitting groups in social culture, politics, family lines, etc.
On Criminal Minds
Criminal cults featured in Criminal Minds:
Real World
Some noteworthy real life cult leaders include: