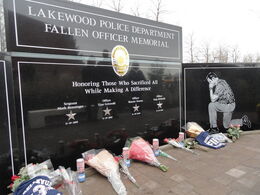 A
Cop Killer
is, as the title suggests, a person who kills at least one person working in the local police force or law enforcement agency. Usually, when a cop or agent is murdered, the rest of the police force/agency makes hunting the perpetrator down a top priority, as the officers intend for their colleague's death to not go unpunished. In the course of history, the term 'Cop Killer' has become applicable for
anyone
who works in some sort of law enforcement field, such as a security guard.
This is not to be confused with a Killer Cop, which is an officer of the law who commits an unjustifiable homicide.
On Criminal Minds
Note: Usually, when a policeman or agent is killed on the show it is incidental and not premeditated. One example of the contrary is Animal. Some notable cop killers on the show are:
Real World
Lee Harvey Oswald, assassin who also murdered Texas Patrolman J.D. Tippit
Charles Whitman, murderer of Officer Billy Speed during the University of Texas sniper attacks
Eric Rudolph, murderer of Robert Sanderson in an abortion clinic bombing
Timothy McVeigh, convicted of murdering eight federal agents in the Oklahoma City bombing
Larry Phillips, Jr. and Emil Mătăsăreanu, murderers of bank guard Herman Dwight Cook
Christopher Dorner, killed four people, including two police officers and a Sheriff's Deputy
Tamerlan and Dzhokhar Tsarnaev, murderers of MIT police officer Sean Collier and BPD Officer Dennis Oliver Simmonds, Jr.
The Dnepropetrovsk Maniacs, murderers of night guard Elena Shram
The Original Night Stalker murdered Brian Maggiore, a Military Police sergeant
Mark Essex, killed nine people, including five police officers, in a murder spree that spanned eight days
Bobby Davis and Jack Twinning, perpetrators of the Newhall massacre
Richard Poplawski, perpetrator of the Pittsburgh police shootings
Lovelle Mixon, perpetrator of the Oakland shootings
Maurice Clemmons, perpetrator of the Lakewood police officer shooting
Jeff Weise, murdered his grandfather (who was a cop) and his grandfather's girlfriend before his massacre at his Red Lake High School
Community content is available under
CC-BY-SA
unless otherwise noted.