Jurassic World: Dominion Dominates Fandom Wikis - The Loop
Play Sound
"
I will not be alive to see my name cleared. That's what this is about, my name. A man is nothing without his name.
"

— Dorner
Christopher Jordan Dorner was a "wound collector"-type homegrown terrorist, spree killer, and cop killer who went on a nine-day-long killing spree which left five people dead (including Dorner himself) and four others injured in February of 2013.
Background
Dorner was born on June 4, 1979, in New York, but was raised in Los Angeles County, California, also growing up in Orange County. He attended Norwalk Christian School from the first to the seventh grade. There, he was allegedly the only African-American student and was therefore bullied by his other classmates, who would give him racial names. As a result, Dorner was involved in fights with other students and was frequently disciplined for the incidents. When he was a teenager, Dorner decided that he would become a police officer, attending a youth program offered by the La Palma Police Department. He attended John F. Kennedy High School in La Palma, Cypress High School in Cypress (from which he graduated in the year of 1997), and Southern Utah University in Cedar City, Utah. There, he played football for at least two of the years he spent at the university, and later graduated in 2001 with a major in political science. The following year, he was commissioned into the U.S. Navy Reserve, commanding a security unit at Naval Air Station Fallon in Nevada, serving with a Mobile Inshore Undersea Warfare Unit from 2004 to 2006, and being deployed into the island country of Bahrain for twelve months from 2006 to 2007. He was successful during his career as a reservist, earning ribbons for marksmanship and a medal for pistol expertise. Sometime during his adult life, he married a woman, but she later filed for divorce sometime in 2007. Simultaneous to his stay in the Navy Reserve, Dorner also joined the Los Angeles Police Department in 2006.
On July 18, 2007, Dorner and his training officer, Theresa Evans, went to the DoubleTree Hotel in San Pedro when a schizophrenic man named Christopher Gettler was causing a disturbance. Two weeks after the incident, Evans submitted a performance review to Dorner, which claimed that he needed to improve in three specific areas that are never determined to the public. The next day, he filed a report that alleged Evans was using excessive force in her treatment of Christopher Gettler, kicking him in the face twice after attacking him with a taser and then handcuffing him on the ground. This prompted an internal board review that investigated the claims and listened to the testimonies provided by several witnesses, including Dorner, who was represented by Randal Quan, a former LAPD captain. Gettler maintained that he was kicked in the face by a female police officer who resembled Evans, but his testimony was presumably dismissed, possibly due to the hindrances of Gettler's mental illness. Three witnesses later testified that they didn't see Evans kicking Gettler, and Evans also denied ever kicking him. As a result, the board's three members, two LAPD captains, and a criminal defense attorney, unanimously ruled against Dorner's allegations, citing that they lacked credibility and that they were partially motivated by his fear of having his career ended by a poor evaluation by Evans. Subsequently, on September 4, 2008, Dorner's employment in the LAPD was terminated under the citation that he was making false statements. In 2010, he tried to appeal the decision for the termination of his employment, but it was dismissed. On February 1, 2013, Dorner was honorably discharged from the Navy Reserve.
Killing Spree, Manhunt, and Death
On February 1, 2013 (the same day of his discharge), Dorner allegedly sent journalist Anderson Cooper a package containing a DVD stating his case against the LAPD, a bullet-ridden challenge coin, and a note reading '1MOA' (meaning 1 minute of angle), which implies that the coin was shot from a distance of 100 meters. Two days later, Dorner began his killing spree, going to Irvine and opening fire on a couple seated in their vehicle during the evening hours. The victims were identified as 28-year-old Monica Quan, the daughter of Randal Quan, who was Dorner's attorney, and 27-year-old Keith Lawrence, a campus police officer for the University of Southern California. The following day, Dorner published a thirteen-page manifesto online, which outlined his experiences and stating his motive for the killing spree as an effort to clear his name. It also stated that he was "framed" by the LAPD in retaliation for reporting excessive force on Theresa Evans, and demanded the department to make a public admission to the legitimacy of his claims; it also urged journalists to use specific lines of the initial case review that he sent to them as means of pressure for the LAPD. Additionally, it specifically named Randal Quan and his family as targets (which prompted police to name him the primary suspect for the Quan-Lawrence double homicide two days afterward) since Quan had failed to represent Dorner efficiently, and it also named other officers and specific acts that they committed. In the wake of the publication of the manifesto, protection details were established for over forty potential targets of Dorner's, while thousands of police officers were ordered to patrol the highways in southern California in an effort to find him. The LAPD also removed officers from their motorcycles as a safety precaution.
On February 7, at about 1:00 a.m., Dorner ambushed two police officers at a Corona gas station, both of whom were flagged down by a man who recognized Dorner from the news; firing a rifle at them, he grazed the head of one officer, but missed the other. He then escaped to Riverside, where he opened fire, in a drive-by shooting, on two police officers who were seated in their cruiser, approximately twenty minutes after the Corona shooting. Officer Michael Crain, aged 34, died from his gunshot wounds shortly after the shooting, while his partner, Officer Andrew Tachias, aged 27, was left in critical condition, but survived. Approximately an hour and twenty-five minutes later, Dorner attempted to steal a boat in San Diego, allegedly with the intention of going to Mexico, but failed. Later that day, police began shooting at vehicles that matched the description of the dark-gray 2005 Nissan Titan pickup truck that Dorner was said to be driving at the time of the shootings; in two separate incidents, one in Los Angeles and the other in Torrance, three innocent civilians were injured. That same day, the truck was found, having been set ablaze on a remote fire trail located near Big Bear Lake, prompting hundreds of officers to search the entire area and schools in the area to be placed in lock-down. Two days later, in an effort to assuage the public, which was being held on edge from Dorner's shootings of police officers, the LAPD reopened the investigation into the termination of his employment. The next day, a $1 million reward was issued for information that will lead to his capture, and his actions were labeled as a form of "domestic terrorism".
On February 12, in Big Bear, a couple, Jim and Karen Reynolds, found Dorner hiding in their house, having hidden himself there from police officers during the entire manhunt in the area. He subdued them and tied them up, promising not to kill them, before fleeing in their car. He later abandoned the car and carjacked a man named Rick Heltebrake, driving his vehicle down the street. California Fish and Wildlife game wardens were first to spot Dorner and briefly got into a shootout with him. Dorner then shot at several San Bernardino Sheriff's Deputies, wounding two; one of them, Detective Jeremiah MacKay, aged 35, later died at a hospital. He then went inside a cabin in Angelus Oaks, which was ironically located near a temporary command center that was heading the manhunt for him. There, he engaged several Sheriff's Deputies in a massive gunfight (during which he was wounded), and a three-mile perimeter was subsequently set up around the cabin, with residents being told to stay inside their homes with the doors locked. A standoff ensued, and police tried to coerce Dorner out of the cabin by using ordinary "cold" tear-gas, but when he failed to respond, a demolition vehicle was used to knock down most of the cabin's walls in an attempt to force him out. When that failed as well, Deputies fired incendiary tear-gas grenades (the same type that was used during the Waco siege to kill 76 members of the Branch Davidians at a Texas compound) into the remains of the cabin, setting it on fire. As the cabin burned, a single gunshot was heard. Later that day, a body was recovered from the cabin and confirmed to belong to Dorner; the cause of death was revealed to be a self-inflicted gunshot wound to the head. After many days of debating, the $1 million reward issued for Dorner's capture was divided in four ways, with $800,000 going to James and Karen Reynolds, who were tied up by Dorner after finding him in their house.
On January 11, 2014, a 59-page report was released by the LAPD, which cleared the Sheriff's Deputies, police officers, and game wardens present during the cabin standoff of any wrongdoing, citing that they "had no choice" but to engage in the gunfight with Dorner.
Modus Operandi
Dorner targeted random police officers and also family members of people involved in his case, such as Randal Quan. When he killed them, he would shoot his victims with a 9mm Glock 19 pistol or a .223-caliber AR-15 assault rifle (both equipped with suppressors) during ambush attacks. Two of his shootings involved the victims being seated in their vehicles. He was also armed with a variety of other firearms and weapons, including a suppressed Remington Model 700 sniper rifle, a suppressed .22-caliber Walther P22, and several gas/smoke canisters.
Known Victims
Unspecified dates: Numerous unnamed kids (schoolmates who bullied him; assaulted only)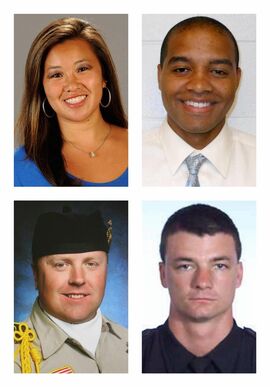 2013, California:

February 3, Irvine: Monica Quan and Keith Lawrence (both were shot inside their car with a 9mm pistol):

Monica Lisa Quan, 28 (Randal Quan's daughter)
Public Safety Officer Keith Lawrence, 27 (Monica Quan's fiancé)

February 7:

Corona: Two unnamed LAPD police officers (attempted; shot at them, grazing the head of one officer, and missing the other)
Riverside: Michael Crain and Andrew Tachias (both were shot inside their car with a rifle during an ambush):

Officer Michael Daniel Crain, 34 (killed)
Officer Andrew Tachias, 27 (injured)

February 12:

San Bernandino:

Jim and Karen Reynolds (incidental; both held at gunpoint, gagged, and tied up, but left alive)
Rick Heltebrake (held at gunpoint while carjacking him)
Several unnamed California Fish and Wildlife game wardens (attempted; got into a brief shootout with them)

Big Bear Lake: The cabin shootout:

Detective Jeremiah MacKay, 35 (killed; was shot in the neck with a rifle)
Deputy Alex Collins (severely injured; shot with the same rifle)
Several unnamed Sheriff's Deputies (attempted; got into a gunfight with them)
On Criminal Minds
Season Nine

"The Return" - While not directly mentioned or referenced in this episode, Dorner appears to have been an inspiration for the episode's unsub, Wayne Gulino - Both were "wound collector"-type homegrown terrorists and cop killers (by proxy in Gulino's case) who schemed for revenge against the places they worked at (both of whom were involved in U.S. Military and Police) after they blamed someone for ruining their careers (both were discharged after a report, though these reports were different), their attacks were both described as terrorist-like, and both had partners involved in their killings.
"What Happens in Mecklinburg" - Dorner was mentioned as an example of "injustice collectors" (though he was actually a "wound collector"-type).

Season Eleven

"A Badge and a Gun" - Dorner was mentioned again as an example of mission-oriented spree killers.
On Criminal Minds: Beyond Borders
Season One

"Iqiniso" - WHile Dorner was never directly mentioned or referenced on Beyond Borders, he appears to be the primary inspiration for the episode's unsub, Curtis Miller - Both were killers who served in some military forcre (the South African National Defence Force in Miller's case, the U.S. Navy Reserve and Los Angeles Police Department in Dorner's), had stressors involving crimes committed during their service (Miller's sister was murdered, while Dorner was discharged for alleged police brutality), were discharged from their positions afterwards, both targeted the people involved and their families (Curtis attacked and murdered the group that killed his sister and their children, Dorner attacked the people who got him fired from the police and their families when he tried to report police brutality), used symbolic references in their crimes to evoke their lives and motives (Curtis copied his sister's murder with almost exact, precise details on the children of the killers responsible for her murder, Dorner sent a bullet-riddled challenge coin in a letter to evoke his military experience), both left behind living victims they briefly took hostage, restrained, and left for the police to find, and both their sprees ended in stand-offs at houses that resulted in their deaths (Curtis was killed in a fatal fight by accident, Dorner committed suicide when the house was set on fire).
Sources