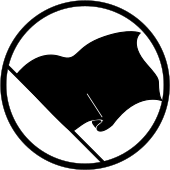 An anarchist is a person advocates for self-governed societies based on voluntary institutions and the abolition of the central government, otherwise known as Anarchism. While most anarchists are non-violent people who use political processes to advocate anarchy, some do use violence to push the anarchist agenda, often called "propaganda of the deed", a form of terrorism.
One of the ideologies of Communism is the eventual abolition of government through the "proletariat" (common workers).
On Criminal Minds
Anarchists on the show
Season Seven

Izzy Rogers ("Hit" and "Run") - A psychopathic terrorist and assassin who committed a series of violent bank robberies and bombings to fund an attack on Washington DC.
Matthew Downs ("Hit" and "Run") - Izzy's lover who also shared her beliefs, also scarred with PTSD from his time as a U.S. Marine.

Season Ten

Hayman Vasher ("A Thousand Suns") - A homegrown terrorist who used remote-control plane crashes to terrorize Washington D.C., though only one crash was successful, and it wasn't in Washington.

Season Eleven
Real World
External Links
Community content is available under
CC-BY-SA
unless otherwise noted.