"
Anonymity was the whole point!
"

— Eisenmund
Al Eisenmund is a proxy killer and accomplice/client of Giuseppe Montolo who appears in the Season Eleven episode "The Job".
Background
Nothing is known of Eisenmund's early life other than he was a mechanic living in Baltimore, Maryland. He was scheduled to be married to a woman, but for unknown reasons, he hired Giuseppe Montolo to kill her. The hit was successful, but Montolo kept tabs on him ever since. Panicking, Eisenmund hired another hitman to kill Montolo. The hitman attacked Montolo and shot him in the jaw in Atlantic City, New Jersey, but Montolo was able to escape and have his wound treated. This betrayal angered Montolo into targeting his former clients while seeking out the person responsible for his own hit, and Eisenmund was apparently unaware of the turn of events.
The Job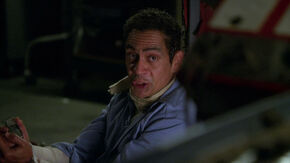 Eisenmund is first seen at his auto-body shop with his friend. When the man leaves, Montolo shows up, knocks Eisenmund out, and takes him hostage. When Eisenmund regains consciousness, Montolo is about to inject Eisenmund with the supplement, but he receives a text from someone and changes his plans. He sprays Eisenmund's hands with an acrylic and glues an M26 Grenade to them. After Montolo escapes, the BAU and SWAT show up and find Eisenmund. At first, SWAT tells him to drop the grenade but he says that he can't because it is glued to his hands. Forming a strategy, Reid is able to remove the grenade from Eisenmund's hands by using sulfuric acid, though it burns his hands. Afterwards, everyone manages to escape from the shop when it explodes. The BAU take Eisenmund back to their headquarters to be interrogated by Morgan. Eisenmund is questioned about his fiancée, and he admits to hiring Montolo to kill her. He then explains that he hired another hitman to kill Montolo. Eisenmund isn't seen afterwards, but he was most likely incarcerated.
Known Victims
Unspecified date and location in Maryland: His unnamed fiancée (hired Montolo to kill her)
September 23, 2015, Atlantic City, New Jersey: Giuseppe Montolo (attempted; hired a hitman to kill him, but the attack failed)
Appearances
Community content is available under
CC-BY-SA
unless otherwise noted.